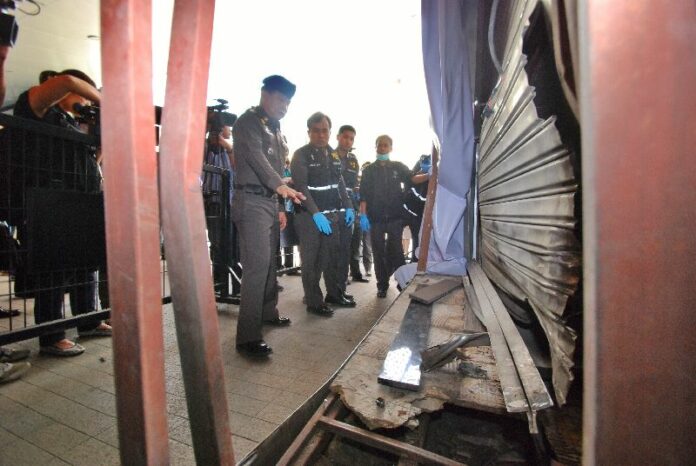 BANGKOK — Police say they are looking for two male suspects in connection with the homemade explosives planted in the heart of Bangkok's financial district on 1 February.
The bombs went off at around 8.10 pm on the walkway that connects Siam Paragon, one of the largest shopping malls in Thailand, and Siam skytrain station, the largest and busiest BTS station in the city. One person was reported injured by the blast.
According to police, CCTV footage in the area shows two men planting suspicious packages at the scene and walking away prior to the explosions.
A spokesperson of the Royal Thai Police said yesterday that forensic officers are still investigating evidence collected at the crime scene to identify the suspects, and police have not yet applied for arrest warrants from the court.
Pol.Lt.Gen. Prawut Thawornsiri added that police have not yet determined whether the 1 Feb blasts are connected to previous politically-motivated bombings in Bangkok that preceded the 22 May 2014 coup.
Commenting on junta chairman Prayuth Chan-ocha's suggestionthat the bombings may have been planted by anti-junta elements, Pol.Lt.Gen. Prawut said, "Police have information about those who have dissenting opinions, but we have no information that such dissenting opinions would lead to violent incidents."
Nevertheless, Pol.Lt.Gen. Prawut said the police force has been ordered to step up its intelligence operations on "various groups that were active in the past" and "monitor all the hardcore elements in those groups that have a history of using explosives."
He continued, "I have to admit that our operation to maintain peace and order may have some gaps. From now on, we will fill those gaps by adding more reinforcements and CCTVs."
Authorities say they believe the homemade "pipe bombs" were planted as an act of harassment, and not designed to injure or kill.
Underground militants believed to be affiliated with both Thailand's Redshirt and Yellowshirt factions launched numerous grenade and shooting attacks on rival groups prior to the military coup on 22 May 2014. Nearly 30 people were killed in the six months of anti-government protests that preceded the military takeover, and most of the fatalities were protesters killed by shadowy assailants who attacked rally sites.