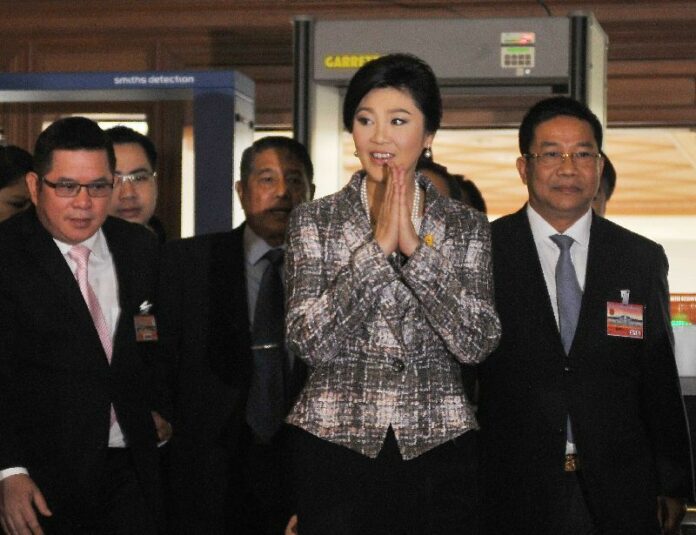 BANGKOK — Thailand's military junta has reportedly barred former Prime Minister Yingluck Shinawatra from the leaving the country.
Several Thai newspapers, including Matichon, have quoted an "unnamed" source as saying that the junta, formally known as the National Council for Peace and Order (NCPO), has denied Yingluck's request to travel to Hong Kong.
NCPO chairman and Prime Minister Prayuth Chan-ocha refused to comment on the report while he was leaving for a state visit to Japan this morning.
"Go read the newspapers," Gen. Prayuth told reporters at Don Mueang Airport. "Read what they say."
Yingluck was retroactively impeached on 23 January by the junta-appointed National Legislative Assembly, which voted overwhelmingly to ban her from politics for five years for allegedly failing to stop corruption in her administration's rice-pledging policy.
The impeachment was the latest in a series of legal punishments handed down to Yingluck and her government. In May 2014, she was ousted from her office by a court ruling, and a few weeks later, the remnants of her government were overthrown in the military coup led by Gen. Prayuth, who was army chief at the time.
On the day that Yingluck was impeached, the Attorney-General also announced plans to pursue criminal charges against her in connection with the rice policy corruption. If found guilty, she could face up to 10 years in prison.
Yingluck was believed to be planning a trip to Hong Kong to meet her brother, former Prime Minister Thaksin Shinawatra. Although Thaksin was deposed in a military coup in 2006 and has lived in self-imposed exile since 2008, he has retained significant influence over Thai politics and is considered the de facto leader of the Redshirt movement.
Yingluck was permitted to travel abroad last October, when she and her son met up with Thaksin in China and Japan. After several outlets featured photos of the siblings on their trip, Gen. Prayuth asked the media to stop publishing news about Thaksin.
"Don't publish photos of people who violate the law," Gen. Prayuth said at the time. "Why are you still featuring news [about him?]"
For comments, or corrections to this article please contact: [email protected]