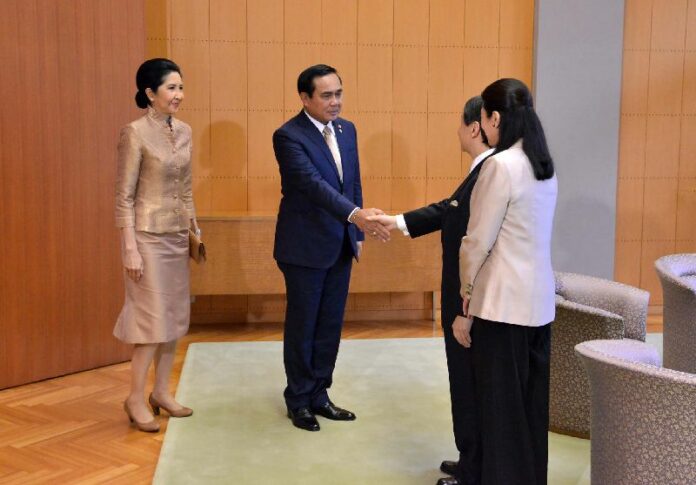 BANGKOK — A spokesperson for Thailand's military government has asked the public to focus on what junta chairman and Prime Minister Gen. Prayuth Chan-ocha is doing for the nation, and not the protests that reportedly greeted his arrival in Japan.
Photos of protesters holding banners in Thai, Japanese, and English that call for the repeal of martial law were posted on the Facebook page of the anti-coup group "Seri Thai" (Free Thai) today. The demonstration was reportedly organized by Thai residents living in Japan, though the exact time and location of the event was not specified.

A photo of anti-coup protesters in Japan posted on the Facebook page of anti-coup group "Seri Thai."
Responding to the photos today, government spokesperson Maj.Gen. Sansern Kaewkamnerd said the public should instead pay attention to Gen. Prayuth, who is "working for the country" during his state visit to Japan.
"The protesters have the right to protest. In a country that is ruled under a democratic regime, all these things can be done. We should not be worried about it, or make it such a big issue," Maj.Gen. Sansern said. "The big issue for us is Gen. Prayuth's works. They protest, that's their business. Don't make it our big issue. What should be the issue is our duty to do things for the nation."
The photos also show activists holding banners that denounce the military crackdown on Redshirt protesters in 2010 that left over 90 people dead, mostly civilians. Some protesters are seen holding portraits of Muramoto Hiroyuki, the Japanese reporter who was shot dead while he was covering the clashes between Redshirt protesters and security forces during the crackdown.

Gen. Prayuth Chan-ocha meeting with the Crown of Prince of Japan in Tokyo on 9 Feb 2015.
Although the Japanese government expressed concern about the suspension of democracy in Thailand following the military takeover led by Gen. Prayuth last May, diplomatic and economic relations between the two countries remain normal.
Last week, Human Rights Watch urged Japanese Prime Minister Shinzo Abe to use his bilateral meeting with Gen. Prayuth today to advocate for the return of democratic rule.
"Thailand is in the choking grip of military rulers, a nationwide enforcement of martial law, and an unrelenting crackdown on freedom of expression, association, and assembly," said Brad Adams, Asia director at Human Rights Watch, in a statement on 6 February. "Pressure from a key business partner like Japan is crucial to bringing a speedy return to democratic rule in Thailand."
Gen. Prayuth's three-day visit to Japan comes at a time when Thailand's diplomatic relations with other Western countries, such as the United States, have started to cool over concerns about the junta's leadership. This morning, the US charge d'affaires in Bangkok described the relationship between the two countries as going through a "challenging" time.
For comments, or corrections to this article please contact:[email protected]
You can also find Khaosod English on Twitter and Facebook
http://twitter.com/KhaosodEnglish
http://www.facebook.com/KhaosodEnglish