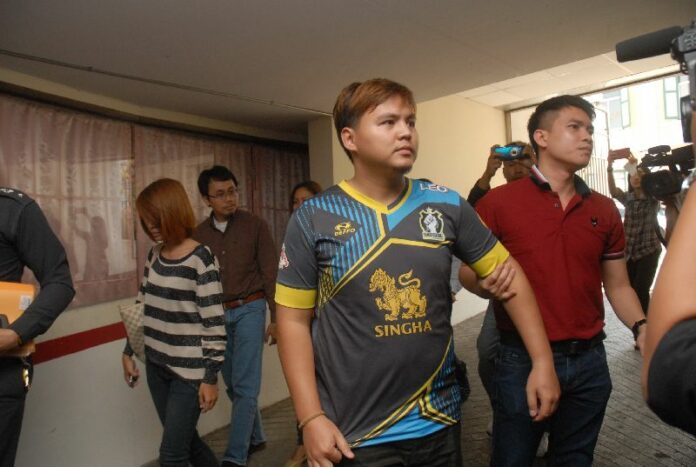 BANGKOK — Only one of the two suspects charged with lese majeste in connection with a forged royal statement was released on bail today.
Niran Yaowapha, the online editor of the pro-monarchy newspaper that published the false document, which purported to be issued by His Majesty the King, surrendered to police today and was later released on bail after posting 400,000 baht in cash and a land title deed. Niran briefly posted the forged statement on the website of ASTV Manager before pulling it down and replacing it with an apology.
However, the 25-year-old Redshirt activist who authorities say was "one of the first" people to share the document on social media was denied release on bail today. The suspect, Krit Bootdeecheen, was arrested on 4 February and held in an army camp for five days of interrogation without a lawyer before he was handed over to police yesterday.
Krit's lawyer, Winyat Chartmontri, told Khaosod that his client's bail application was rejected because of an "incomplete document" problem. A report on Prachatai news site quoted Winyat as saying that Krit's family could not afford the 400,000 baht bail money set by the court.
According to the report, Winyat said he would try to submit another bail application "as soon as possible."
The fake palace statement, a radical and unprecedented act of forgery in Thailand, appeared on the night of 2 February and claimed that 87-year-old King Bhumibol had decided to appoint a Regent to act on his behalf. The government declared it to be fake within an hour.
Both Krit and Niran have been charged with violating Section 112 of the Thai Criminal Codes, a law known as lese majeste that criminalizes defamation of the Royal Family.
The two men are facing trial in military court, which was granted jurisdiction over lese majeste cases and other lawsuits involving "national security" after the military coup on 22 May 2014.
Krit is currently being detained at Bangkok Remand Prison, where a number of other lese majeste suspects are being held. It is very uncommon for lese majeste suspects to be released on bail.