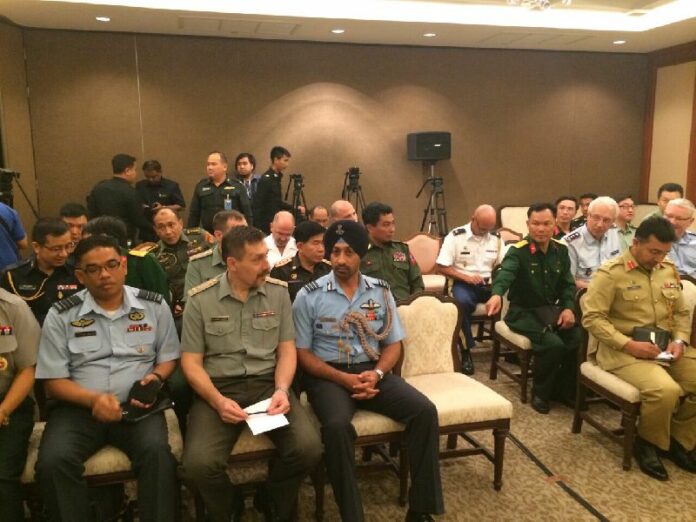 BANGKOK — A spokesperson for Thailand's military junta explained to a group of foreign dignitaries today that the Kingdom's lese majeste law is needed to protect the "feelings" of the Thai people.
Thailand's lese majeste law, the strictest of its kind in the world, criminalizes criticism of the monarchy with up to 15 years in prison. Since seizing power in a coup d'etat on 22 May 2014, the ruling junta has rigorously enforced the law to crackdown on perceived "anti-monarchists," granting martial courts jurisdiction over lese majeste cases. Human rights groups say the law is abused to silence critics and political enemies.
Today, a spokesperson for the junta, known formally as the National Council for Peace and Order (NCPO), told a conference of foreign military attaches from 25 countries that lese majeste violations "affect the hearts of many Thai people." He insisted that prosecuting lese majeste offenders does not constitute a violation of human rights.
"They attempt to destroy the identity, tradition, and culture of Thailand," Col. Winthai Suvaree said. "Therefore, we have to give priority to solving these problems."
He continued, "Security officers are not violating human rights, as it has been claimed. There are many suspects, especially those who have fled the country to live abroad, who are trying to distort information and paint it as a political persecution."
The Thai government has struggled in vain to seek the extradition of lese majeste suspects living abroad, as most foreign nations do not recognize the law.
Col. Winthai's comments came on the heels of a string of recent lese majeste arrests in Thailand. Last week, soldiers arrested a Redshirt activist who allegedly circulated a forged royal statement on social media that said His Majesty the King had appointed a Regent to act on his behalf. The 25-year-old activist, Krit Bootdeecheen, was held at an army camp without any access to a lawyer for five days before he was transferred to the military court for formal prosecution.
On 9 February police arrested a man named Hasadin Uraipraiwan who allegedly produced a series of audio clips on the internet that criticize the Thai Royal Family. Like Krit, Hasadin is facing trial in military court, where appeals are not possible. Two other alleged members of Hasadin's "network" were arrested on 7 February.
Lese majeste suspects are rarely granted release on bail and often spend months in prison awaiting trial. Among those currently facing prosecution are two theatre activists who were accused of insulting the Royal Family by staging a play about a fictional monarch in October 2013. The pair has been held in prison since they were arrested last August.
Speaking to foreign military attaches today, Col. Winthai also touched on a number of other issues related to the political situation in Thailand, including:
– The necessity of the 22 May coup: Col. Winthai repeated that the NCPO was forced to seize power for the sake of national stability, and claimed that "The Thai coup is different to what happened in other countries, so you should not consider it with an outdated perspective like in the past."
– Return to democracy: "The NCPO is working hard to follow the road map … to become a full-fledged democracy."
– Judicial independence: "The NCPO has focused on the administration of the country, solving national problems, and maintaining peace and order. We do not interfere with the justice system."
– Summoning and detaining dissidents: "The NCPO respects and listens to constructive opinions. We have set up many channels to express opinions. The invitations were in fact about exchanging opinions with individuals, under our perspective that the situation in the country is still sensitive. Some parts of the country are not moving in the same direction. Our main objective is to prevent any expression that distorts facts or misleads the public with personal viewpoints, which may lead to conflicts in the society or hostile expressions that affect peace and order."
– The need for martial law: "There is still need for the martial law, because we need the military to assist the measures to maintain peace and order, and ensure public security."
– The junta is not a dictatorship: "The NCPO doesn't want you to use the word dictator, because, in all of our actions in the past, we allow members of the public to participate in the channels that we have set up for them. It's not like we do things on our own or refuse to listen to anyone or behave like dictator – contrary to the attempt by some people to distort that fact."