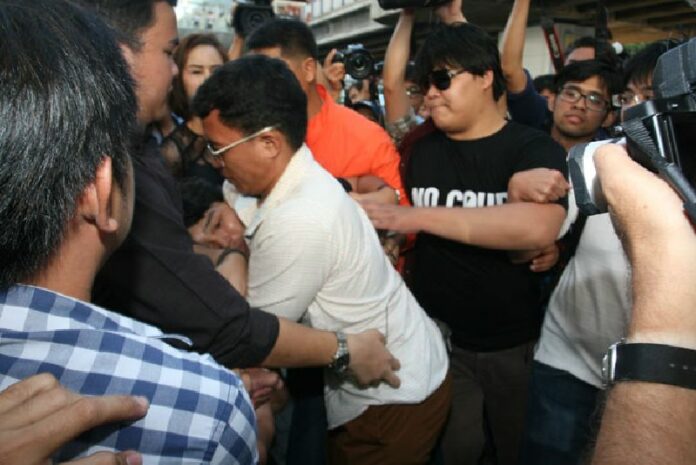 BANGKOK – Four activists, including a university student, have been arrested and reportedly charged with violating the junta's ban on protests for organizing a pro-democracy rally in Bangkok today.
The four activists were arrested while they were preparing the demonstration in front of the Bangkok Art and Culture Center on Saturday evening.
The demonstration was organized by a newly formed activist group named "Resisting Citizens." The group called upon the Thai military junta to restore democratic rule and hold an election immediately.
Since seizing power on 22 May 2014, the Thai junta has maintained a nationwide ban on public protests and political activites. Gen. Prayuth Chan-ocha, junta chairman and Prime Minister, has promised to hold an election by 2016.
The four activists arrested today are Pansak Srithep, Arnon Nampha, Siriwit Serithiwat, and Wannakiat Chusuwan. They were taken away from the rally site by security officers.
Pansak and Arnon have been involved in anti-coup activities in recent months, and Siriwit is a Thammsat University student and leader of a pro-democracy activist group. Wannakiat has been identified by security forces as a taxi driver.
Security was tight throughout the rally, which was the most open challenge to the military junta's ban on political activities since initial anti-coup protests that followed the military takeover last year.
Police officers stationed at the rally site also appeared to incite tension among protesters by accusing some demonstrators of not "being Thai" and demanding them to sing the Thai national anthem.
"The security officers' treatment reflects the fact that they were too worried," said Arnon, who is a lawyer by profession, shortly before his arrest. "In fact, I tried to hold activities that are constructive and under [non violent] framework."
At around 10 pm on 14 February the official Facebook page of the Thai Lawyers for Human Rights, the group that has been coordinating legal assistance for anti-coup dissidents, posted that the four activists have been charged with violating the ban on protests.
The four activists are likely to face trial in military court, where military officers serve as judges and appeals are not possible.
Siriwit, the student activist, will also face a separate charge of violating a disagreement made with authorities, according to the post. During his last military detention, Siriwat was forced to sign an MOU vowing not to participate in any protests.
For comments, or corrections to this article please contact: [email protected]