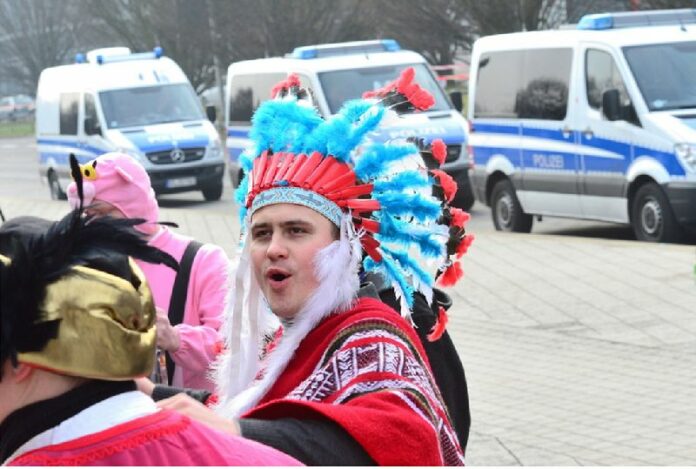 HANOVER, GERMANY (DPA) – Police in the northern German city of Braunschweig cancelled the annual carnival procession shortly before it was due to begin on Sunday over fears of a terrorist attack.
A police spokesman said they had received the information during the night and investigated it Sunday morning.
"Reliable state security sources" informed the police that "a concrete danger existed from an attack with an Islamist background," the spokesman said.
"We are talking about an SMS or a threatening phonecall," he said.
Only a few weeks ago, a demonstration by the anti-Islam Pegida movement in the eastern city of Dresden had to be cancelled after a similar threat was made.
However, security authorities said that they did not see any raised threat following the attack in the Danish capital Copenhagen on Saturday.
The carnival, known as the "Schoduvel," is the largest in northern Germany and was expected to draw a crowd of 250,000 to Braunschweig, also known in English as Brunswick, with 4,500 participants in the procession and some 100 floats this year.
Carnival processions set for Monday in Cologne, Dusseldorf and Mainz will go ahead as scheduled, authorities said.
"We have no evidence of threats," a spokesman for the western state of North Rhine-Westphalia's Interior Ministry said.
Hundreds of thousands of spectators are expected to take to the streets of the three cities for the annual parades.
"We believe that everything is going as planned," a spokeswoman for the committee organizing the Cologne carnival said.
In Mainz they also said there was no indication of a threat, but they remained "very alert."
The German Interior Ministry had reacted to Saturday's terrorist attack in Copenhagen by saying there was no elevated risk of an attack in Germany.
As always, there was an abstract level of danger, a ministry spokeswoman in Berlin told dpa. "But we do not have any concrete indications of attack plans in Germany," she stressed. "The situation is unchanged."
She added that German security authorities were in contact with their Danish counterparts, but as investigations in Copenhagen were ongoing, it was too early to draw any conclusions as regards Germany.
Two people were killed and five injured in the Copenhagen attack before police shot dead the suspected attacker on Sunday morning.
Security sources said they are dealing with numerous tips about terrorist threats since the attacks on the French satirical magazine Charlie Hebdo in Paris in January and Copenhagen this weekend.
Authorities have to look into every lead and investigate whether it is just posturing or if there is a real threat behind it.
It is very complicated, the sources said, and sometimes leads to preventative measures being taken as in Braunschweig.
There was obvious disappointment for the revellers who had travelled to Braunschweig for the parade, many of them in fancy dress. Where they expected to see floats, the streets were empty.
Police were searching the area with sniffer dogs.
Braunschweig Mayor Ulrich Markurth said it was "a sad day for our democratic society."
However, "the assessment of the police did not permit any other decision," Markurth said.