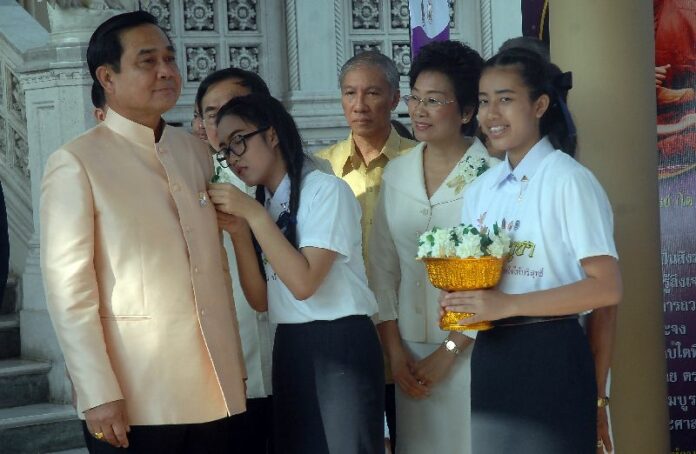 BANGKOK — Prime Minister and junta chairman Prayuth Chan-ocha has given Thai pollsters a clear guideline: no anti-junta surveys allowed.
"If they want to do polls, they can do so. But if they do polls to oppose NCPO, that's unacceptable," Gen. Prayuth said at the Government House yesterday, using the formal name of the junta, the National Council for Peace and Order. "They cannot do that."
Gen. Prayuth was commenting on a number of recent surveys of public opinion on the political situation in Thailand, nearly all of which have cast the junta in a favorable light. Critics say most of the polls are unreliable – not only because respondents may fear expressing their views under the junta's crackdown on dissent – but because the surveys tend to rely on small sample groups and use misleading wording.
According to a survey by Krungthep Poll on 9 February, more than 70 percent of 1,120 respondents said that martial law has contributed to an "environment of peace and happiness," and that "martial law is still necessary for the NCPO and the government of Gen. Prayuth Chan-ocha in their administration of the country."
Gen. Prayuth imposed martial law two days before leading a coup against an elected government in May 2014. The 100-year-old law, which is still in place nine months later, grants the military a range of powers that infringe on civil rights, including the authority to ban protests, censor the media, and search homes without warrants. Those who criticize the junta publicly, even on forums like Facebook, risk being summoned to army camps for "attitude adjustment."
Krungthep Poll also reported over the weekend that 66 economists gave Gen. Prayuth an average score of 5.62 out of 10 for his government's economic performance, a ranking higher than the score of any previous government in the past six years.
Speaking to reporters about the poll, Gen. Prayuth thanked his Cabinet for "their great work" on the economy.
"However, we cannot do all these works in one or two days," he said. "The problems have been accumulating for years, for tens of years. We only came to solve the problem in the last five or six months. What we have achieved is already great."
Gen. Prayuth said that polls will not affect the government's "road map to democracy."
"I just do my duty. If I listened to or cared about all the opinions, I wouldn't be able to do anything," the general said.
Gen. Prayuth also asked the media to help him by reminding the public not to violate martial law.
"Why don't you write and remind the people not to do violence, because there is still martial law," Gen. Prayuth told reporters. "You have to help us by writing like that. But you only write about the NCPO restricting rights and censoring the media. As a result, people will be impetuous, because they see that the NCPO is afraid to use its power."