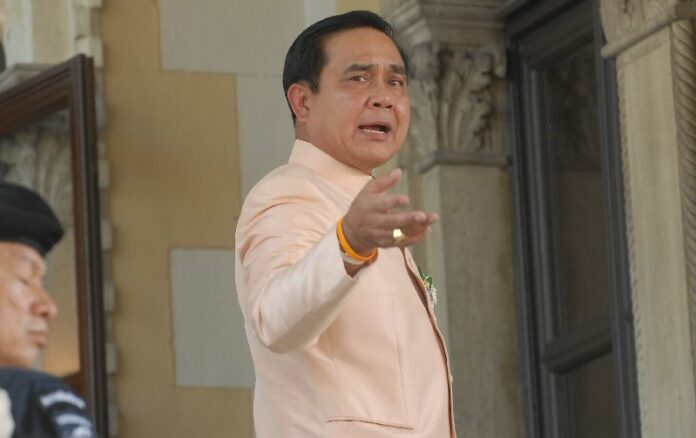 BANGKOK — Thailand's next constitution will allow for an unelected Prime Minister to take control in the event of a political crisis, drafters of the charter said yesterday.
Kamnoon Sitthisaman, spokesperson for the junta-appointed Constitution Drafting Committee (CDC), said that the Prime Minister "won't be required to be an MP," contrary to recent constitutions.
According to Kamnoon, the change will be enshrined in Section 173 of the new charter, which is expected to be finished by September 2015. The removal of the requirement is intended to offer a solution in the event of a political crisis, he said.
"In normal situation, the Parliament will elect a Prime Minister from the MPs," Kamnoon said, "But in an abnormal situation, they may appoint an outsider to serve in that position."
Kamnoon did not elaborate on what types of abnormal situations would warrant an unelected Prime Minister.
According to the provision, which was approved by 17 out of 31 committee members present for the vote, the outsider PM will need to receive support from more than half of the House of Representatives, and will be limited to serving two terms.
Critics says the measure is further evidence of the junta's alliance with the conservative movement that campaigned against former Prime Minister Yingluck Shinawatra. Ushering in an unelected "outsider" Prime Minister was one of the protesters' chief demands.
In May 2014, the movement's leaders asked the Senate to unilaterally appoint a PM after Yingluck was ousted in a court ruling. The Senate refused, and was dissolved only a few weeks later after the military stepped in and staged a coup on 22 May.
After seizing power, the junta shredded the 2007 constitution and appointed the CDC to draft a new one. The committee is stacked with military allies and prominent members of the anti-government movement, including Kamnoon.
Speaking to reporters today, Gen. Lertrat Rattanawanich, another spokesperson of the CDC, urged the public not to worry about "outsider" Prime Minister clause.
"I believe in normal situations, no MP would ever vote for an outsider to be the Prime Minister, unless there is any reason or any situation that would force them to do so." Gen. Lertrat said. "Therefore, do not be worried. If any inappropriate thing happens, the people will punish their MPs by refusing to re-elect them."
Although junta leaders insist they are impartial in Thailand's bitter political divide, analysts say their military government is bent on crippling the political faction that supported Yingluck and her brother, former Prime Minister Thaksin Shinawatra.
Last month the junta's lawmaking body voted to retroactively impeach Yingluck over corruption in an agricultural policy, thereby banning her from political office for five years.
The CDC also announced this week that the Senate will be a fully-appointed body under the new charter, a development widely seen as an attempt to blunt the power of the Shinawatra-backed parties that have won every national election since 2001.