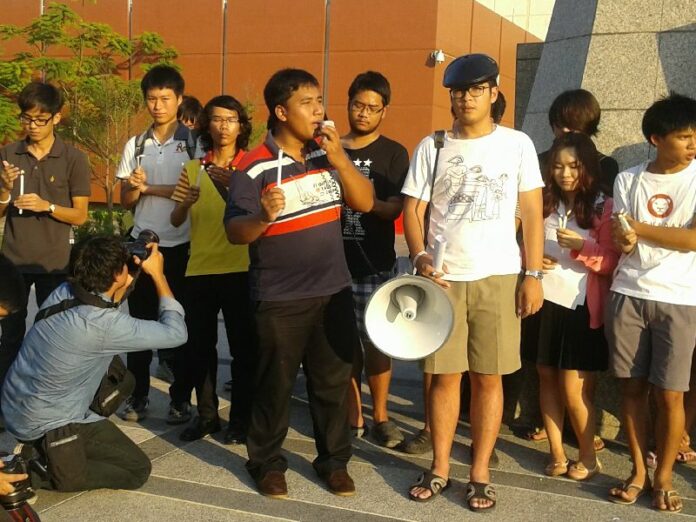 BANGKOK — Several dozen students and lecturers staged protests on Thursday denouncing Thammasat University's recent decision to fire history professor Somsak Jeamteerasakul, a prominent critic of the Thai monarchy who is currently living in exile.
According to an order released by the university this week, Somsak, 56, was fired for failing to show up for work for more than 15 days. The dismissal effectively disqualified Somsak from receiving a pension and other benefits, despite the fact he has taught at the university for over 20 years.

Students and professors denounce Thammasat University's decision to fire history professor Somsak Jeamteerasakul, 25 Feb 2015.
Today's protests were organized by a group calling itself "Thammasat Community" at Thammasat's Tha Prachan and Rangsit campuses.
The demonstrators at Tha Prachan campus read a statement to the press expressing disappointment over the university's decision to fire Somsak rather than accept his letter of resignation, which he said he submitted to the university in December 2014.
"It is disappointing that the administrators of Thammasat University have abandoned their chance to show moral courage in defense of liberty and academic independence," the statement read. "Instead, they display fear toward the dictatorial power that has interfered in the university, to the point of refusing to protect their own personnel."
In a symbolic gesture of solidarity with Somsak, one of the demonstrators put white powder in his hair in reference to the historian's nickname as "the white-haired professor."
Several plain-clothed police officers monitored the event, Prachatai English reported, but no arrests were made. Public protests and political activities are currently banned by the junta, which declared martial law and seized power in a coup in May 2014.
A historian by trade, Somsak is a rare outspoken critic of the monarchy in Thailand, where insulting the Royal Family is punishable by up to 15 years under the country's lese majeste law.
Somsak, who was charged with lese majeste in 2011, is believed to have fled Thailand shortly after the May 2014 coup.
The junta, known officially as the National Council for Peace and Order (NCPO), summoned Somsak and hundreds of other academics, activists, and politicians for "attitude adjustment" after the military takeover. When Somsak did not comply, authorities issued an arrest warrant for him and eventually revoked his passport.
After six months of silence, Somsak posted on his Facebook that he was living in exile in Europe. Although he has never specified which country he is living in, many people have confirmed that he is residing in France. Over the past few months, Somsak has published dozens of historical documents and criticism of the monarchy on social media.
The rector of Thammasat University, Somkid Lertpaitoon, told TNN news agency yesterday that the order to expel Somsak was in accordance with university regulations, which prohibit employees from missing work for more than 15 days "without due cause." He added that the university summoned Somsak to testify before a university committee in person, but that the historian did not comply, leaving the university administrators no choice but to fire him.
"The punishment of Mr. Somsak is not related to his expression of political opinions, because we regard it as academic freedom," Somkid was quoted as saying. "And it's not related to lese majeste, either. Mr. Somsak is being prosecuted under the criminal codes, which is the duty of police officers to proceed under the laws."
However, Somsak posted on his Facebook that university regulations allow for a wide range of punishments for employees who miss work, ranging from temporary suspensions to requested resignations.
"I suspect that the rector has been so busy working for the NCPO that he forgot the regulations of his own workplace," Somsak wrote, referring to Somkid's membership in the interim legislature appointed by the ruling junta.