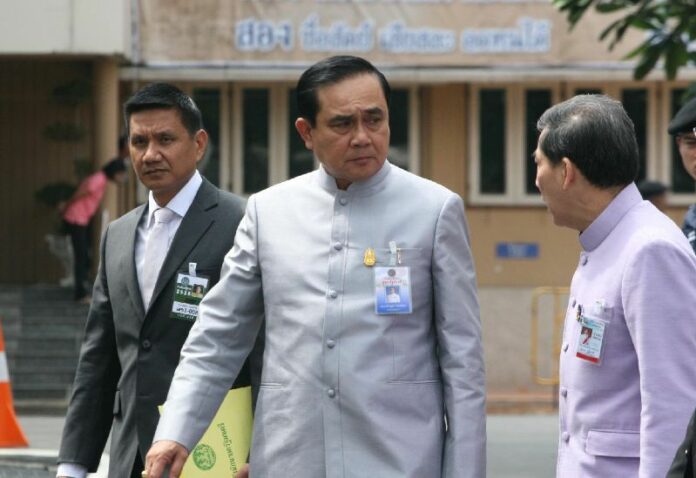 BANGKOK — Junta chairman and Prime Minister Prayuth Chan-ocha warned last night that any news anchors or talking heads who present opposing views about his government on television may be summoned for discussion.
Gen. Prayuth said last night that certain TV channels have "incorrectly" discussed the junta's national reform effort without seeking input from the government.
"Learn to use the correct channel," Gen. Prayuth told the nation in his weekly television address last night. "I listen to [certain channels] and wonder, eh, why don't they understand us? Sometimes they talk in a totally opposite manner."
"Many shows and many channels still have problem with this," he continued. "I may need to summon you for a discussion. I am not censoring you. But you invite academics and guests who give totally opposite views of the issues. They talk about things that are incorrect and inaccurate."
Gen. Prayuth suggested that all media commentators focus on "helping move the country forward," instead of engaging in debates.
"I want all of you to help move the country forward and create reconciliation," Gen. Prayuth said. "Let each group do their work and only comment on it in the end. Don't cause a fight with each other."
Since seizing power from an elected government on 22 May 2014, Gen. Prayuth has significantly curtailed civil rights in Thailand by imposing a ban on public protests, sending violators to face trial in martial court, and urging the media not to criticize his regime, among other restrictions.
On 3 December 2014, Gen. Prayuth personally held a meeting with editors and executives from 16 newspapers, including Khaosod, and asked them cooperate with the government.
Many news agencies in Thailand have exercised self-censorship in the face of intimidation from the junta, which is known officially as the National Council for Peace and Order (NCPO). Although Gen. Prayuth has stopped short of fully censoring the press, in November 2014 the army ordered a TV channel to drop a talk show that was airing complaints about the coup.
The military junta says it will hold a general election in 2016 at the earliest, given that a new constitution has been finalized and the political climate is deemed stable.
In his hour-long address last night, Gen. Prayuth also stressed that the junta is still the highest body of governance in the post-coup administration, which also includes his Cabinet, the National Legislative Assembly, the National Reform Council, and the Constitution Drafting Committee. Together with the NCPO, these five bodies are known as the "Five Rivers."
"As for the solving problems and moving the country forward, the government has been doing it continuously. They do it with NCPO. The NCPO is the source, you know. What they have been calling the Five Rivers actually flows down from the NCPO," Gen. Prayuth said. "Therefore, the NCPO has to be informed about everything, and everything needs the NCPO's agreement."
He then assured his audience "But I will not give a guideline like, hey, go eliminate someone, or take special action against someone. No such thing. I have never done it."
For comments, or corrections to this article please contact: [email protected]
You can also find Khaosod English on Twitter and Facebook
http://twitter.com/KhaosodEnglish
http://www.facebook.com/KhaosodEnglish