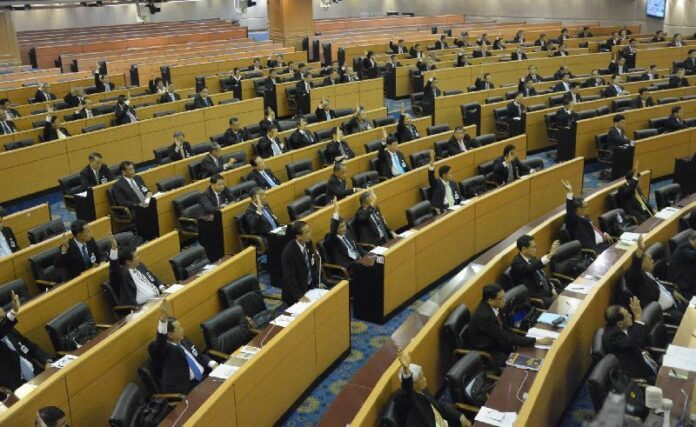 BANGKOK — The deputy chairman of the junta-appointed National Legislative Assembly (NLA) has advised lawmakers to fire any relatives hired to work as personal aides.
Surachai Liangboonlertchai said yesterday that although it is not illegal for NLA members to use the state budget to employ relatives, the assembly should listen to mounting public criticism about the practice.
"Since society is questioning what is appropriate, and the NLA thinks that it should be a model parliament, we accept the criticism from society," Surachai said at the press conference. "The whip of the NLA has advised members who appointed close ones and relatives to serve in positions [as personal aides] to remove them from the position, effective from 1 March."
He added, "I hope that the members will proceed with this advice, in order to create a good standard for politics."
A report published by Isra News last week revealed that 57 lawmakers in the 220-member NLA have hired their own spouses, siblings, children, and cousins as staff. Salaries for the aides range from 15,000 – 24,000 baht per month.
The NLA was appointed by the ruling military after the May 2014 coup to serve as an interim parliament until the next general election, which is expected to be held in 2016 at the earliest. All of the NLA members were handpicked by Prime Minister and junta chairman Prayuth Chan-ocha.
After Isra's report was published last week, leading members of the military government, including Gen. Prayuth, defended the practice, insisting that it is not against the law.
Yesterday, Surachai suggested that some NLA members may have hired relatives in order to protect "confidential" data.
"The reason is because of their political work and confidential data, so they need to appoint the people they can trust as aides, otherwise information may be leaked," Surachai said. "The salaries are also low, so they were afraid that no one would agree to work in the positions, and they were forced to hire the people close to them."
Surachai also expressed confidence that the NLA will not be found guilty of any wrongdoing by the National Anti-Corruption Commission, which was petitioned by an activist yesterday to investigate the lawmakers.
"I'm not concerned at all, because the NLA has done nothing illegal so far," Surachai said.
For comments, or corrections to this article please contact:[email protected]
You can also find Khaosod English on Twitter and Facebook
http://twitter.com/KhaosodEnglish
http://www.facebook.com/KhaosodEnglish