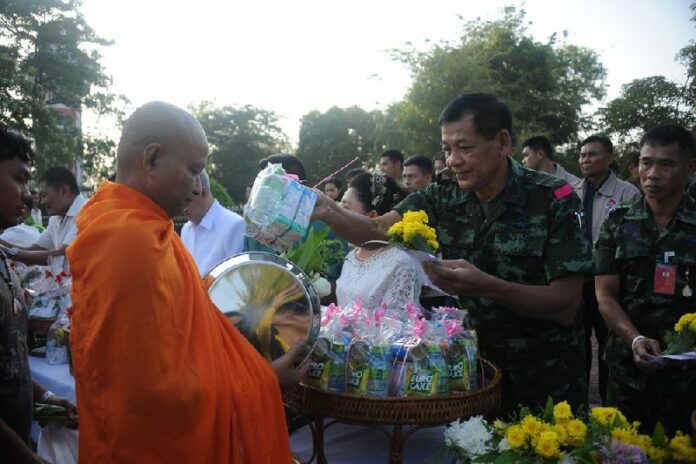 PATTANI — Soldiers reportedly confiscated a cache of military weapons from the home of a Muslim cleric in the southern border province of Pattani yesterday.
The weapons were found inside the home of a local imam named Zechariah Satam in Khok Pho district, said Col. Pramote Prom-in, a spokesperson of the Internal Security Operations Command (ISOC) in Pattani, at a press conference this morning.

The site where an IED exploded in Pattani on 3 March 2015.
According to Col. Pramote, soldiers confiscated one assault rifle, more than 1,200 bullets, one M79 grenade launcher, and six shells for the grenade launcher. Security officers also found bomb-making devices and 14 fake car licenses during the raid, he said.
"The officials have collected all of the items as evidence for tests in forensic science, in order to establish a link to perpetrators behind violence in the region," Col. Pramote said at the press conference.
He also told reporters that suspected Islamic insurgents shot two civilians in Khok Pho district yesterday, and detonated an IED near the site when security officers were inspecting the crime scene, wounding one security officer and six more civilians.
"The ISOC would like to express condolence to relatives and families of those who were injured by such barbaric and inhumane actions that targeted innocent civilians – Buddhist and Muslim," Col. Pramote said. "It is a radical and intimidating act of a terrorist nature."
The spokesperson added security forces have been instructed to implement tighter security measures to protect Buddhist communities in the three southern border provinces of Narathiwat, Pattani, and Yala, where local insurgents often target Buddhists and state officials.
The militants are believed to be part of a network aiming to revive the independent sultanate of Pattani, which was incorporated into Thailand in early 20th century.
At least 6,000 people, mostly civilians, have died since the secessionist violence broke out in early 2004, rights groups estimate.
Unlike the rest of Thailand, where Buddhism is the prevalent faith, a majority of population in the Deep South are Muslims who speak a distinct dialect and often consider themselves Malay.
For comments, or corrections to this article please contact:[email protected]
You can also find Khaosod English on Twitter and Facebook
http://twitter.com/KhaosodEnglish
http://www.facebook.com/KhaosodEnglish