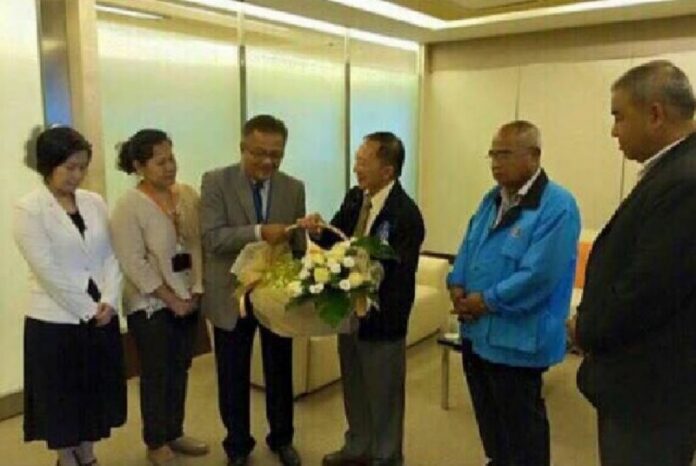 BANGKOK — The first wife of Thailand's Crown Prince has formally forgiven a state-owned TV station for misidentifying her during a news segment.
Channel 3 is currently under investigation by the National Broadcasting and Telecommunication Commission (NBTC) for the error, which occurred on 2 March when an anchorwoman misidentified the rank and name of Her Royal Highness Soamsawali.
Yesterday, Her Royal Highness dispatched a royal representative to Channel 3 headquarters to deliver a bouquet as a gesture of forgiveness and goodwill, according to Channel 3's public relations department.
The Chanel 3 official told Khaosod that Princess Soamsawali accepted the station's apology and did not hold any grudges over the matter. Nevertheless, the official confirmed that the anchorwoman has been suspended for a month as punishment.
Princess Soamsawali was married to Crown Prince Vajiralongkorn in 1977. The couple divorced in 1991.
According to the NBTC, the error committed by the anchorwoman constitutes a violation of the 2008 Thai Public Broadcasting Service Act, which forbids airing content that could "lead to an overthrow of the regime of democracy with the King As Head of State or affects the national security, peace and order, and good morality of the people."
A member of the NBTC also asked media agencies not to publish details about Channel 3's alleged wrongdoing, or else they will be liable for prosecution as well.
Thailand has a number of laws that strictly prohibit criticism of the Royal Thai Family, including Section 112 of the Criminal Codes, which carries a maximum penalty of 15 years in prison for defaming the monarchy.
Due to these laws, Khaosod English is complying with the order of news embargo and withholding other information about Channel 3's news coverage.
For comments, or corrections to this article please contact:[email protected]
You can also find Khaosod English on Twitter and Facebook
http://twitter.com/KhaosodEnglish
http://www.facebook.com/KhaosodEnglish