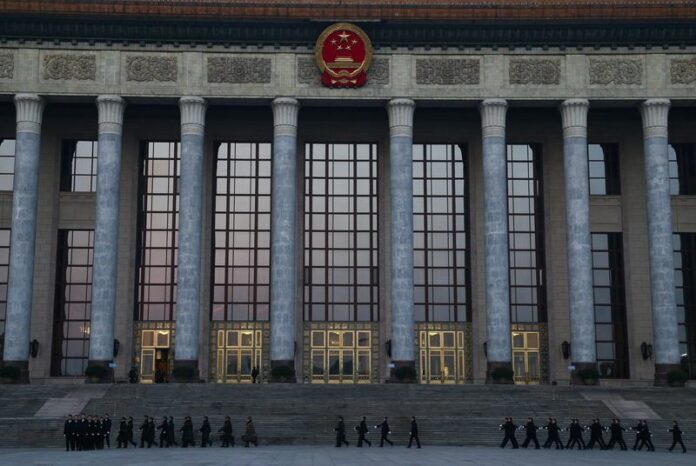 By Joanna Chiu
BEIJING (DPA) — China called for a "new momentum" in relations with the United States Sunday as President Xi Jinping is set to make his first state visit to Washington in the autumn.
"We should not look at disagreements through a microscope but rather use a telescope to look beyond those and focus on what we can agree on," Foreign Minister Wang Yi said on the sidelines of the annual Chinese parliamentary gathering in Beijing.
"We hope cyberspace will be a new frontier of cooperation and not a new source of friction," Wang said. "China and the US have common interests in upholding cyber-security."
Both countries have accused each other of cyberespionage in the past year.
In May the US Justice Department charged five Chinese officers of hacking into the computers of a US steel company. China's Foreign Ministry hit back by saying that China is a victim of "severe US cyber theft, wiretapping and surveillance activities".
"China and the US are two large countries and it is impossible for them not to have disagreements," Wang said.
Wang's comments came two days after a commentary in the official Xinhua news agency slammed a US report that China's space program threatens US military security.
The report released last week by the US-China Economic and Security Review Commission said China's development of space technologies is aimed at blocking US military communications.
Such an allegation "only makes Uncle Sam a butt and exposes its consistent indecent tactics in addressing China's peaceful development," the commentary said.
Another commentary from Xinhua on Sunday said the increase in China's military budget "poses no threat to other states."
A budget report from the Ministry of Finance on Thursday said China planned to increase its military budget this year by 10.1 per cent, bringing the total defence budget to about 145 billion dollars.
Wang also addressed concerns during the Sunday press conference about China's recent construction of artificial islands on disputed South China Sea reefs.
"China is legally justified to carry out necessary construction on its own islands and reefs," Wang said.
China claims nearly the entire sea, including several parts administered by its South-East Asian neighbours. Japan and China also have a longstanding dispute involving the East China Sea.
Vietnam's issued a statement Thursday to "strongly" protest China's "illegal activities" in the South China Sea, and demand it respect Vietnam's sovereignty.
Wang did not mention Japan by name but invited "leaders from all relevant countries" to participate in events to mark the "70th anniversary of the victory of its War of Resistance against Japanese Aggression and the Second World War" in the autumn.
Territorial disagreements and disputes over their wartime history – in particular the issue of Korean sex slaves during World War II – have complicated ties between China and Japan.
Japanese Prime Minister Shinzo Abe held a long-sought meeting with Chinese President Xi in November, when both sides agreed to "gradually resume political, diplomatic and security talks."
For comments, or corrections to this article please contact:[email protected]
You can also find Khaosod English on Twitter and Facebook
http://twitter.com/KhaosodEnglish
http://www.facebook.com/KhaosodEnglish