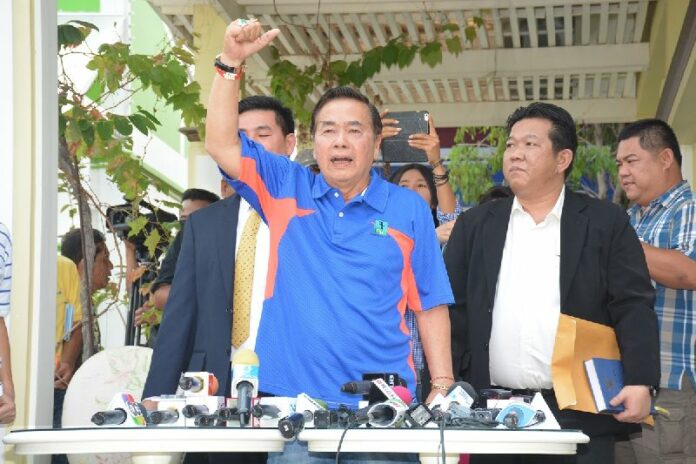 BANGKOK — A cousin of former Prime Minister Thaksin Shinawatra has denied involvement in the grenade attack on the Criminal Court in Bangkok on Saturday.
Gen. Chaiyasith Shinawatra was responding to police reports that his name was found in the phone book of the 34-year-old man who allegedly threw a hand grenade at the parking lot of the Criminal Court on 7 March.

Gen. Chaiyasith Shinawatra speaking at a press conference at his home in Pathum Thani, 9 March 2015.
Gen. Chaiyasith, who has served as army chief and commander of the Thai armed forces, said today that he had no connection to the bomb plot and only knew the suspect from "a long time ago," when the man sought his help.
"Whoever comes to seek my help because of some troubles, I have always helped as much as I could. Some people ask for money. Some ask for food," Gen. Chaiyasith said at a press conference at his home in Pathum Thani today. "It happened long time ago. So long that I forgot about it. As for the intention to drag me into this and attempt to link me to anyone, please, don't drag me into this."
According to the military, soldiers posted near the court saw the explosion and chased after the suspect, identified as Yutthana Yenpinyo, who escaped on the back of a motorcycle driven by Mahahin Khunthong. One of the suspects reportedly fired a pistol at soldiers, who shot back and injured Yutthana, causing the motorcylce to fall on its side. Both men, and two others arrested in connection with the attack, are now in military custody.
Gen. Chaiyasith accused security officers of trying to implicate him in the bombing today, and threatened to take legal action against those tainting his reputation.
"The police have been doing good work — they knew in advance that there would be an attack, so they should focus on that point, instead of focusing the point about the discovery of my phone number," Gen. Chaiyasith said. "It shows that there is an intention to drag me into the case … They should prepare to see my lawyer, because they are damaging me. I will sue them all, because they like to put misleading questions [to the suspect]. And I am starting to feel suspicious about whether the suspect was persuaded or fooled [in the interrogation]."
He added, "However, I am confident that the justice system in Thailand would still allow a Shinawatra some place to stand, instead of going after all Shinawatras."

Mahahin Khunthong, 34, was arrested for assisting with the grenade attack on the Criminal Court in Bangkok on 7 March 2015.​
Gen. Chaiyasith's cousin, Thaksin Shinawatra, was ousted in a coup in 2006 but remains the de facto leader of the Redshirt movement, despite having living in self-imposed exile to avoid a corruption conviction. Thaksin's allies have repeatedly risen to power in every election since his ouster, thanks to broad support from Redshirts in Thailand's north and northeast. Thaksin's sister, former Prime Minister Yingluck Shinawatra, led the Redshirt-allied government toppled in the 22 May 2014 coup.
In yesterday's press conference, military officers said they believed that Redshirt activists in Pattaya supplied weapons to the suspects behind the grenade attack.
According to Lt.Gen. Pongsawasdi Panchit, commander of the 1st Infantry Division, the group was also preparing to stage an attack on 15 March.
"Security officers are not letting their guard down," Lt.Gen. Pongsawasdi said, "The people should be eyes and ears of the authorities."
Since seizing power last May, the ruling junta and its appointed interim government has sought to dismantle the Shinawatra political machine. In the wake of the coup, Thaksin's allies in the bureaucracy were transferred from their posts, a ban on all political activities was imposed, and hundreds of activists, politicians, and academics deemed sympathetic to Thaksin were detained in army camps for "attitude adjustment."
In January, the junta-appointed interim parliament also voted overwhelmingly to impeach Yingluck on charges of corruption in her government's rice policy, banning her from politics for five years.
Gen. Chaiyasith told reporters today that he hopes the military will not let "ill feeling" about the Shinawatras guide their investigation into the grenade attack.
"I hope that they will check their intelligence well, and check it thoroughly. I don't want to see intelligence units making things up, or using their ill feeling about people in the Shinawatra family," Gen. Chaiyasith said. "Don't assert baseless things. Don't drag me into it. But I won't run anywhere. Some people want me to flee, but I won't. I want to know why I can't stay in Thailand. I am a Thai person, too. I love the King. I love everything about Thailand."
He continued, "If they want to issue an arrest warrant on me, then do it. Issue an arrest warrant and let the legal system decide. I want to know if the court will approve an arrest warrant on me just because the suspect's phonebook has my name. I want to know what this country is like."
CORRECTION: The original report identified Mahahin Khunthong as the suspect who allegedly threw the grenade, when in fact police say he was only the driver of the getaway vehicle.
For comments, or corrections to this article please contact:[email protected]
You can also find Khaosod English on Twitter and Facebook
http://twitter.com/KhaosodEnglish
http://www.facebook.com/KhaosodEnglish