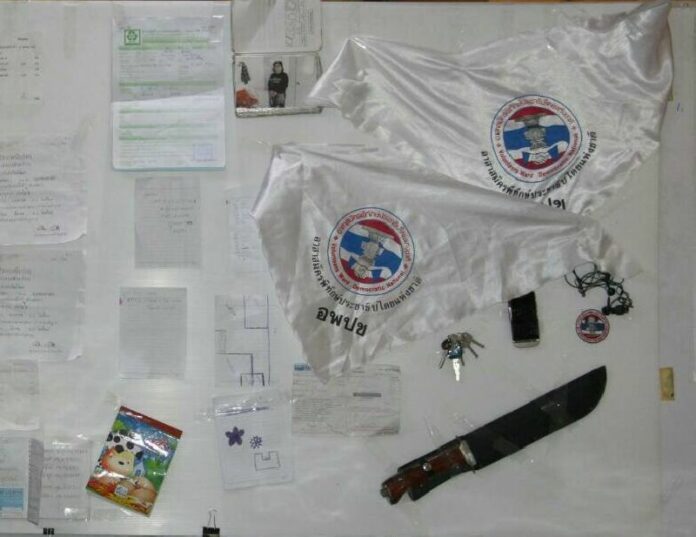 BANGKOK — A former Redshirt leader has denied any connection between Saturday's grenade attack on a Bangkok court house and the Northeast-based political organization he helped found last year.
Suphon Attawong, aka Rambo Isaan, said today that he is concerned by the military's claims that two suspects accused of launching the attack were carrying neckerchiefs that belonged to his group when they were arrested on 7 March.
Suphon insisted that his group, called the National Volunteers for Defence of Democracy (NVDD), had no connection to the two suspects or the grenade attack. According to Suphon, the NVDD disbanded on 31 May 2014, a week after the military toppled a Redshirt-backed government in a coup.
"I am no longer involved in politics," Suphon said. "Nowadays, I only take care of my family, and I intend not to get involved in politics ever again."
Suphon also said the neckerchiefs shouldn't be interpreted as evidence that the suspects were active in the NVDD, as the group handed out more than 10,000 of them last year.
"I don't know who has neckerchiefs," Suphon said. "The action of the suspects caused damage to my reputation and may cause misunderstanding about me, so I'd like the police to investigate this matter. If they are found guilty of any crime, then they should be prosecuted strictly."
The grenade attack took place in the parking lot of the Criminal Court on Ratchadapisek Road on the night of 7 March. No one was injured in the blast.
Soldiers reportedly apprehended two perpetrators near the crime scene, and two more suspects have been arrested in connection with the attack. All four are currently being held in army camps for interrogation. Under martial law, the military may detain individuals without charges for up to seven days.
The NVDD was founded in the midst of street protests against then-Prime Minister Yingluck Shinawatra in early 2014. The stated mission of the Northeast-based group, which boasted at least 15,000 members, was to "defend democracy" and oppose any attempts to oust Yingluck in an extra-legal way.
"If a coup takes place, we will summon all NVDD members to Bangkok in order to express our support of democracy," Suphon said in April 2014. "We are willing to lay down our lives in defense of an elected government."
After the military did stage a coup against the government on 22 May 2014, Suphon was detained for six days at an army camp for "attitude adjustment." Upon his release, Suphon told the press that he was done with politics, and declared the NVDD defunct.
For comments, or corrections to this article please contact:[email protected]
You can also find Khaosod English on Twitter and Facebook
http://twitter.com/KhaosodEnglish
http://www.facebook.com/KhaosodEnglish