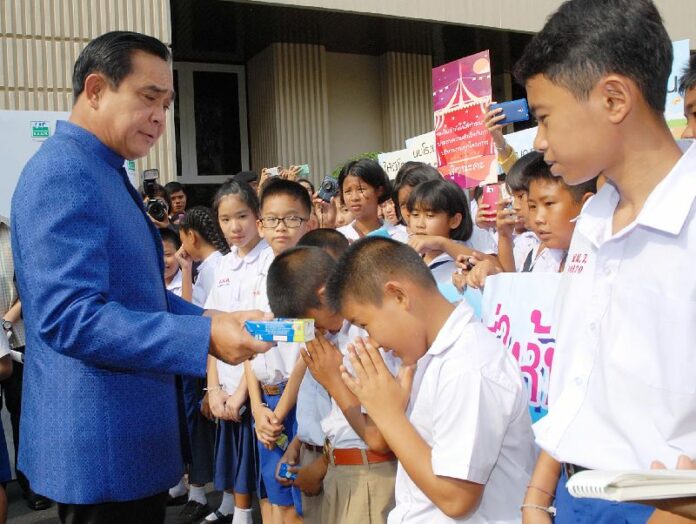 BANGKOK – Thailand's military government will expand its public relations reach this month by printing 10,000 free gazettes explaining what it has accomplished since seizing power in a coup nearly ten months ago.
The 12-page booklets will be published by the end of March and distributed at skytrain and subway stations, bus stops, and pedestrian bridges in Bangkok, officials at the Office of Prime Minister said today.
There is also a plan to distribute the gazettes in provinces outside of Bangkok, officials said.

Gen. Prayuth Chan-ocha holding a draft of the gazette at the Government House on 10 March 2015.
Junta chairman and Prime Minister Prayuth Chan-ocha introduced a draft of the gazette, which is called "For the People," at a press conference today.
"The production of this document isn't meant to show off what I did," Gen. Prayuth said. "I merely want people to know what the government has done, especially the new things that we have done, so that they will see more than my answers to questions from the press. Sometimes the general public may not understand me."
He added that the first edition is not yet complete, as each of the 19 Ministries needs to submit a story about their achievements.
Gen. Prayuth frequently criticizes the media for not "cooperating" with his government, and has sought to deflect criticism about the coup and his continued use of martial law by focusing on the reforms and policy projects his government has overseen.
"The other day, some reporter asked me what the government has done so far," Gen. Prayuth said on 6 March. "I almost punched that reporter in the face. I have done so many things, can they not see it? I will keep talking about what I have done. I am willing to be tired and hurt my throat."
The upcoming gazette marks the Thai junta's first foray into print media. Since the coup, the military government's PR efforts have focused on radio and TV programs, such as Gen. Prayuth's weekly television show called "Returning Happiness to the Thai People," in which he speaks at length about the junta's various campaigns and accomplishments. Updates on the junta's reform efforts are also broadcast daily in a 15-minute television and radio program on all state channels.
Gen. Prayuth said today that he closely follows what is reported in Thai newspapers.
"I collect all the news clippings, and then I consult with my Cabinet members about the issues, of which there are many," Gen. Prayuth said. "I do everything. And from now on, when I speak about different points, I will note down the details, so that I won't forget about them. I may speak a bit slowly from now. But it's not good to talk fast. If I talk fast, I may become a victim [sic]. From now on I will speak well and have patience."