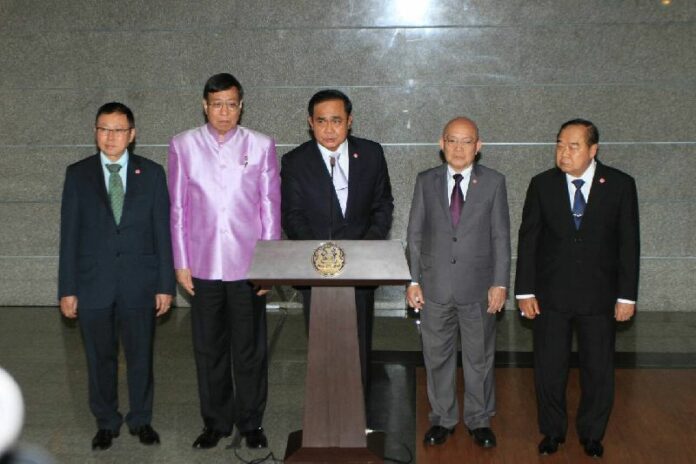 BANGKOK — Thailand's 20th constitution will be inaugurated by His Majesty the King on 4 September 2015, government officials announced on Wednesday.
"The procedure will be completed by 25 May, upon which time the Constitution Drafting Committee will see whether there should be any amendments based on proposals from relevant agencies," said Visanu Kruengam, deputy Prime Minister. "It has been agreed that the final date that the Constitution will be submitted to the King on 4 September."
Per tradition, constitutions in Thailand are "signed" and enacted by His Majesty the King.
Visanu made the announcement after a meeting between the five governing bodies installed by the military junta, known as the "Five Rivers," which include the Constitution Drafting Committee (CDC), the National Legislative Assembly (NLA), the National Reform Council (NRC), the Cabinet, and the junta itself.
The junta seized power from an elected government on 22 May 2014, dissolved the 2007 "permanent" constitution, and appointed the CDC to draft a new one for Thailand. The junta has promised that a national election will be held after the constitution is enacted – given that the political climate in the country is deemed stable.
According to Visanu, elections will take place approximately 150 days after the new charter is formally promulgated, which would fall in February 2016.
Visanu also said the Five Rivers have not discussed whether there will be a referendum on the new charter, as was the case for the 2007 and 1997 constitutions.
He added that if a referendum was carried out, the date of the constitution's enactment, and the national elections, would be pushed back further.
"If there is indeed going to be a referendum, the submitting of the constitution to the king on 4 September will not happen, and how long it will be pushed back, I cannot say," Visanu said.
He also warned that a referendum would entail many complications, such as the question of what will happen if the charter draft is rejected by majority of voters. Visanu said one option is to adopt a recent constitutions, such as the 1997 or 2007 charters, but that the legality of that approach remains unclear.
"If the constitution fails the referendum and we adopt the 1997 or 2007 charter, can we do that?" Visanu said, "Who will let us do it? Which [constitutional] section will let us do it? Will the people let us do it?"
Visanu added that junta chairman and Prime Minister Prayuth Chan-ocha is "satisfied" with the overall direction of his road map for Thailand so far.
"He would like to thank all agencies for working in accordance with the schedule of his road map," the deputy Prime Minister said.