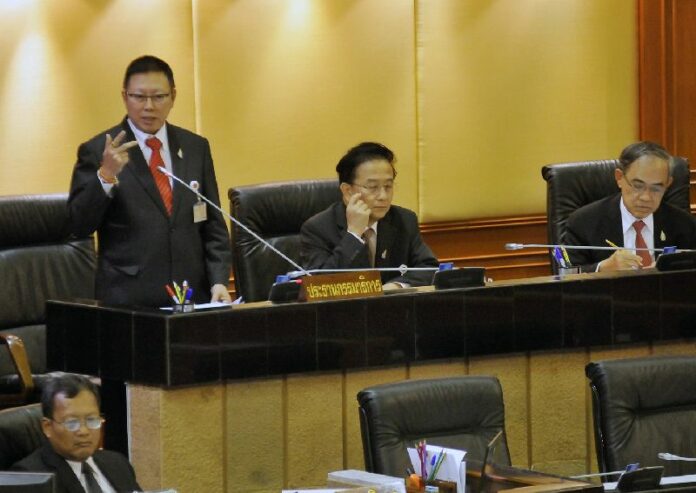 BANGKOK — An opinion poll commissioned by the Constitution Drafting Committee (CDC) shows that a majority of respondents disagree with the CDC's proposal to allow an unelected Prime Minister in the new charter.
The poll questioned 5,800 people above the age of 18 across Thailand in January 2015, said CDC member Thawilwadee Bureekul. She said the survey is a part of the CDC's effort to consult public opinion on the the new constitution, which will be Thailand's 20th since democracy was established in 1932.
According to the poll, 58.9 percent of respondents "agreed" that the Prime Minister must be an elected Member of the Parliament, as required in recent constitutions.
The survey result was publicized a few weeks after the CDC officially announced that the new charter will remove the requirement that the Prime Minister be an MP. CDC spokesperson Kamnoon Sitthisaman said the change is intended to allow for flexibility in the event of a "political crisis."
The current interim charter, which was imposed by the military junta after it seized power from an elected government on 22 May 2014, similarly does not require the head of the government to be a House representative. Coup leader Gen. Prayuth Chan-ocha was later appointed by the interim parliament, whose members he had had handpicked, as the Prime Minister in August 2014.
Asked whether the survey result will prompt the CDC to amend the PM clause, Thawilwadee replied that the CDC is willing to listen to all opinions. "If many sectors in the society think that this issue should be adjusted, improved, and amended, then it may be reconsidered," she said.
However, CDC chairperson Bowornsak Uwanno showed no sign of amending the clause when he briefed the charter drafters yesterday. In the meeting at the parliament house, Bowornsak faulted Thawilwadee for prematurely presenting the survey results to the public.
"I think it's too early, because she should have consulted or asked us about the opinion survey," Bowornsak said, "The questions should have been phrased clearly. For example, there was a question about whether the people think elections should be a duty, which can produce only one type of answer. If the question was phrased to ask whether an election should be a right or duty, the answers would be different."
Gen. Lertrat Rattanawanich, another spokesperson of the CDC, also suggested that the survey does not indicate significant opposition to the clause.
"Only 60 percent of the people agree that Prime Minister has to be an MP, which is in the moderate level. It doesn't mean that 90 percent of the people agree with it," Gen. Lertrat said.
The poll also asked whether the new charter should enforce a quota of female representatives in local councils (55.7 percent agree), whether Thai authorities should treat all non-Thais who reside in Thailand as citizens (20.3 percent agree), and whether the death penalty should be abolished in Thailand (18.0 percent agree).
Related coverage:
New Charter to Allow Unelected Prime Minister
Thai Constitution Drafters Pave Way For Unelected PM