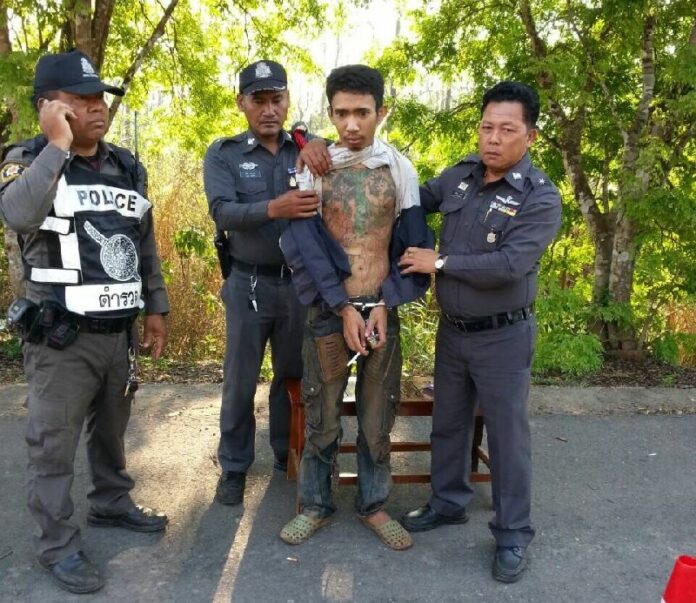 BANGKOK — A suspected drug kingpin who had threatened to massacre police officers in Facebook posts was arrested near the Thai-Burmese border today, police say.
Adisak Srisa-ard, aka Benz Thasai, was arrested after police and military officers found him in van bound for Myanmar in Kanchanaburi province at around 8:20 am this morning, police told reporters.
The suspect was then flown in a helicopter to police headquarters in Bangkok for further interrogation, escorted by armed soldiers and police officers.
Adisak, 26, went into hiding last year after a court approved his arrest warrant, but continued to regularly taunt police on his Facebook account.
He once posted a photo (above) of himself holding two automatic rifles with a caption that threatened to murder every officer at Si Prachan Police Station and their families for seeking his arrest.
"I will hunt all of you down like dogs," he wrote in the photo's caption. "If I go to see you and cannot find you, it's ok. If I find your dad [instead], I will kill him. If I find your mother [instead], I will kill her. Your wife and children will die. I will kill all of your relatives."
He also posted a photo (below) of himself bathing in cash to show that he was still living well.
Pol.Col. Kwanchai Teerasakul, superintendent of Sangkhla Buri Police Station, said police have received information for some time that Adisak was hiding close to Thai-Burmese border in Sangkhla Buri district, and regularly traveling between the two countries. Police then set up additional checkpoints near the border to catch him.
According to police, Adisak entered the narcotics trade as a local drug peddler in Suphan Buri before he became the leader of a major drug ring in the province, allegedly buying narcotics directly from the network run by Yi Se, a prominent drug lord in Myanmar.