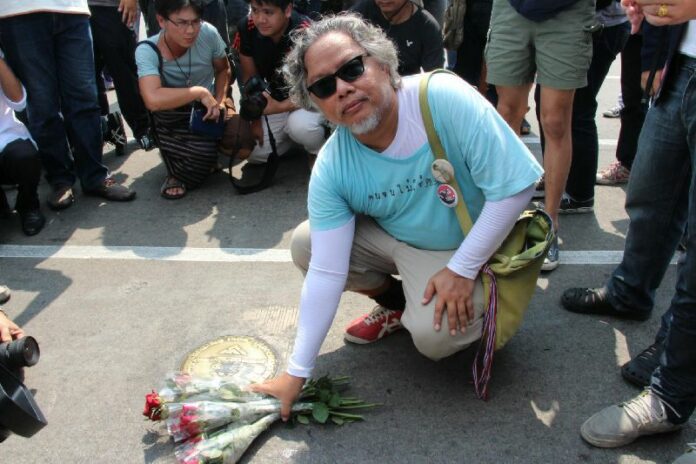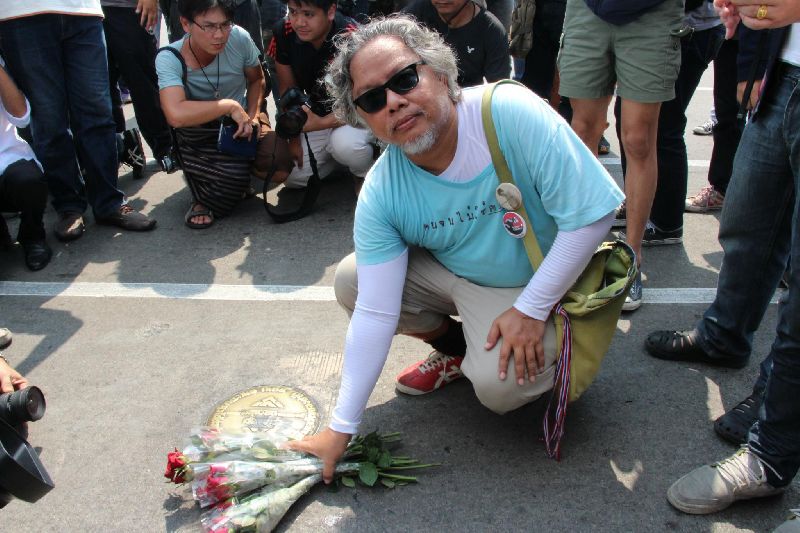 BANGKOK — An anti-coup activist was allowed to continue his symbolic march against the military junta in Bangkok yesterday following a change of tactics from police, who had arrested him for walking on the previous day.
Police officers detained Pansak Srithep on Saturday, only an hour after he began what was supposed to be a 50-km "march for justice" in protest of the junta's suppression of civil rights. Police said the walk was a political activity, which the junta banned after seizing power last May. Pansak was later released that afternoon without charges.
Pansak renewed his walk on Sunday, starting in Bangkok's Makkasak district, where his 17-year-old son Samapan Srithep was shot dead during the military crackdown on Redshirt protesters in May 2010.

Pansak Srithep was allowed to continue his walk in Bangkok on 15 March, 2015.
Police officers followed Pansak throughout his walk, but made no attempts to arrest him. One of the police officers told reporters they were there to prevent any "third hand party" from picking a fight with Pansak or "causing chaos."
At the spot where Samapan was killed, now marked by a small plaque on the road, Pansak read a poem dedicated to his son. Although a court inquest investigating the cause of Samapan's death has not been released, witnesses say he was killed by soldiers who opened fire on Redshirt protesters near Soi Ratchaprarop 18 during the crackdown on 15 May 2010.
After reading the poem, Pansak walked to the Royal Plaza and laid flowers on a small plaque that marks the spot where a group of military officers and civilians seized power from the royal government on 24 June 1932 and proclaimed Thailand a constitutional democracy. He then continued on to Thammasat University.
Pansak is a member of an anti-coup group called Resistant Citizens that has organized non-violent resistance against the junta. The groups says its name is a tribute to American president Thomas Jefferson's remark that "when injustice becomes laws, resistance becomes duty."
Pansak and three other activists are currently facing charges of violating the junta's ban on protests for staging a rally demanding an election on 14 February. The four appeared today before a martial court, where military officers serve as judges and appeals are not permitted.

Watcharin Silpadith, 49, protested Resistant Citizens' anti-coup activities on 15 March 2015.
Also on Sunday, a man showed up in front of Thairath newspaper headquarters in Bangkok to protest Resistant Citizens and voice his support for the military junta. The site, where a taxi driver hanged himself in protest of the 2006 coup, was originally on Pansak's march itinerary.
The man identified himself as Watcharin Silpadith, 49, and told reporters that he didn't belong to any political group, but was merely expressing his own opinion. He held a sign that read: "Enough, please. Let the country rest," and "I don't care who the Prime Minister is, but the people will not tolerate it if someone uses an election to cheat the country."
Police officers eventually approached Watcharin and ordered him to put down the sign. After some argument, Watcharin agreed and left the area.
Speaking at a press conference yesterday, Maj.Gen. Sansern Kaewkamnerd, a spokesperson of the military government, asked Resistant Citizens to cease their activities and abide by the junta's orders.
"Please stop. Please understand the situation in the country today," Maj.Gen. Sansern said, "Security officers try to talk and reach understanding with them. But if the talks fail, we will uphold the interest of the country. In fact, the officers don't want to take any legal action against them, because their penalty may be severe. Gen. Prayuth Chan-ocha, the Prime Minister, stressed that he didn't want to escalate small issues into big issues."
For comments, or corrections to this article please contact: [email protected]