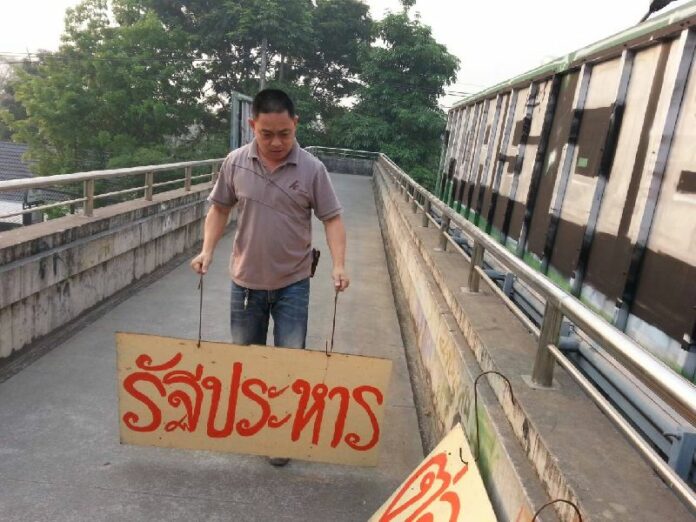 CHIANG MAI — Police officers in the northern province of Chiang Mai are searching for those who hung an anti-coup sign over a highway this morning.
The sign, which read "Oppose the Coup," was spotted on a highway sign on Mahidol Road. Police removed the sign as soon as they arrived at the scene.

The "Oppose the Coup" sign spotted on Mahidol Road, Chiang Mai, 18 March 2015.
Pol.Maj.Gen. Pongsak Chueasomboon, deputy commander of 5th Regional Police, said he has instructed officers to urgently investigate the incident.
"They must inspect CCTVs in the crime scene and the area around it," Pol.Maj.Gen. Pongsak said, "They must inspect suspicious individuals or vehicles. I believe it won't be hard to find the perpetrators."
He also called for all police units in the province to step up security measures to prevent any further incidents.
Thailand's military junta, which seized power in a coup last May, has banned all political activities and protests against its regime. Those who violate the order may face trials in martial court, where military officers serve as judges and appeals are not possible.
Chiang Mai province is the hometown of Yingluck Shinawatra, the former Prime Minister whose government was ousted in the coup. Yingluck and her brother, former Prime Minister Thaksin Shinawatra, enjoy widespread support in the province. Small-scale anti-coup protests broke out in Chiang Mai shortly after the military takeover, but were quickly suppressed by security forces.