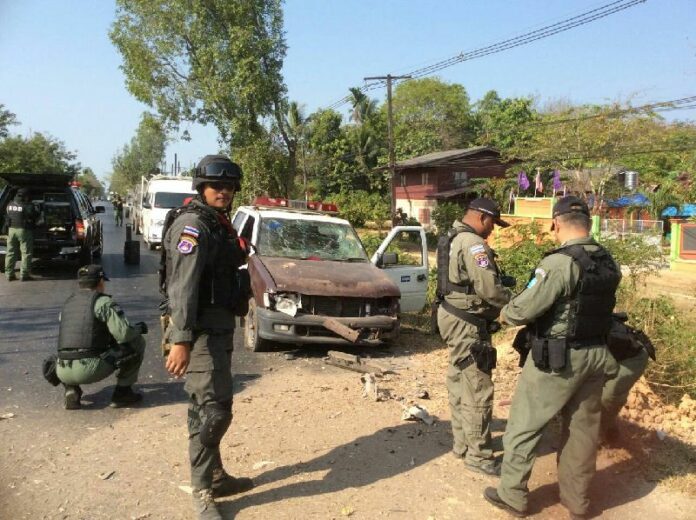 SONGKHLA — A roadside bomb injured a police officer who was guarding a school in southern Thailand, where Islamic insurgents regularly stage attacks on Thai authorities and public schools.
Police say the bomb exploded at 7:40 am in front of Baan Pa Ko school in Thepha district, apparently targeting a group of police officers who were stationed to protect teachers at the school.
The blast injured one police officer and damaged a police vehicle, according to police reports.
Although security officers have not confirmed the motive of the attack, local Islamic separatists frequently attack public school teachers in the region, presumably because they are viewed as instruments of the Thai Buddhist state.
Approximately 180 school teachers have been killed since violence broke out in early 2004. Many teachers now travel with a large convoy of bodyguards and soldiers.
The insurgency, which has claimed the lives of at least 6,000 people, has been waged by a shadowy network of groups seeking to revive the independent Pattani sultanate, which was incorporated into modern Thailand in the early 20th century.
In contrast to the rest of country, where Buddhists make up a vast majority of the population, Thailand's southern border provinces are predominantly Muslim.
The violence is concentrated in the border provinces of Pattani, Yala, and Narathiwat – a region known as the Deep South – but occasionally spills into the neighboring province of Songkhla.
Thamrong Charoenkul, governor of Songkhla province, said he has instructed local administrators to "raise morale" of the people and teachers. He added that security measures will be increased in all districts of Songkhla.