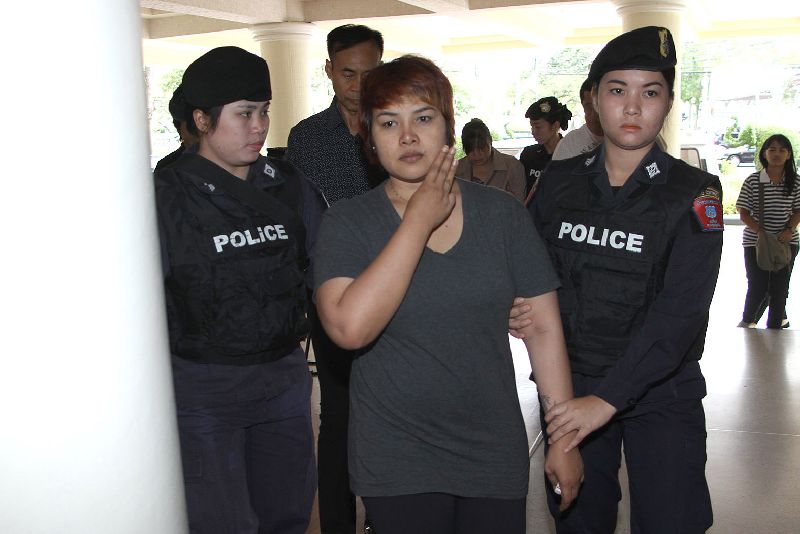 BANGKOK — The former nurse detained by the military for six days and charged with terrorism has now been accused of insulting the Thai Royal Family, a crime punishable by up to 15 years in prison.
Nattathida Meewangpla, 36, was charged with lese majeste (defaming the monarchy) yesterday. She is also facing terrorism charges for her alleged involvement in a network that plotted to stage bomb attacks in Bangkok.

Police question Nattathida Meewangpla at the police HQ in Bangkok, 17 March 2015.
The lese majeste charge was filed by Col. Wicharn Joddaeng, a high-ranking officer in the Internal Security Operation Command (ISOC), a Thai counter-insurgency agency.
According to Col. Wicharn, who heads the ISOC's department of laws and human rights, Nattathida copied a text that insulted the monarchy from one chat room and posted it in two other chat groups.
Col. Wicharn filed documents about Nattathida's interrogation and photocopies of the chat log to Crime Suppression Division as evidence.
Criticizing the the King, Queen, or Heir-Apparent is outlawed under Section 112 of Thailand's criminal codes. In practice, the law is interpreted to cover any content deemed insulting to the monarchy. Those who quote or republish lese majeste content have also been convicted of the crime.
Soldiers took Nattathida from her home on 11 March to an unspecified location for six days, during which she was not allowed contact with the outside world.
The ruling military junta initially denied detaining Nattathida, but later conceded on 17 March after she was transferred from military to police custody and accused of participating in an alleged terrorism plot.
According to police, Nattathida assisted a group who planned to stage five bomb attacks around Bangkok. Police say the group was also responsible for the grenade attack at the Criminal Court on 7 March.
Nattathida is currently being held in a Bangkok prison while she awaits trial in martial court.
In response to outcry from human rights activists about Nattathida's detention, junta chairman and Prime Minister Prayuth Chan-ocha clarified yesterday that the military merely "invited" Nattathida "to talk."
"We didn't arrest her at all. We simply invited her at her home for a talk, and she came," Gen. Prayuth said. "If we had announced it, there would have been a panic."
Nattathida was a key witnesss in a court inquiry that deemed soldiers responsible for the deaths of six civilians at a Buddhist temple during the military crackdown on Redshirt protesters in 2010. Nattathida was working as a volunteer nurse inside the temple during the shooting, which left two other medics dead.
The junta has insisted that her detention was unrelated to the court case.
The prosecution of lese majeste suspects has risen considerably since the junta seized power last May, drawing criticism from human rights groups who say the law is abused to restrict free speech. Gen. Prayuth, considered a hardline royalist, has also granted military courts – which do not permit appeals – jurisdiction over lese majeste cases.