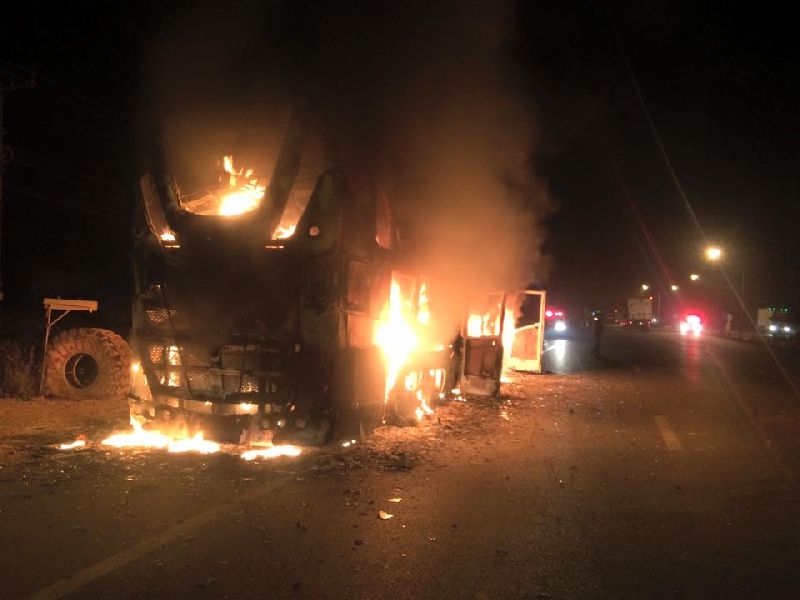 CHUMPHON — Over 30 foreign tourists were forced to flee for their lives after their tour bus suddenly caught fire on a highway in southern Thailand this morning.
Police were first informed about the fire in Chumphon province at 4 am this morning, but firefighters were not dispatched until an hour later, causing some tourists who were waiting at the scene to boo as the firefighters arrived.
No one was injured in the incident, but the driver of the tour bus, Pongpan Daengduan, said all of the tourists' bags were lost in the fire because of the delay.

The burning bus on 41 Highway in Sawee district in Chumphon Province, 18 March 2015.
According to Pongpan, 4o, the bus belonged to a tour company called Choke Mali Daeng. He said he picked up 34 European tourists from Khaosan Road in Bangkok on 7:30 pm yesterday to drive them to a ferry port in Surat Thani province, where the passengers would take boats to Koh Samui island.
The driver said an electrical failure occurred while he was driving, after which he promptly parked the bus on the side of the road. He then smelled smoke and heard a loud noise from the engine.
"So I shouted at the tourists who were sleeping, I woke them up and told them to flee," Pongpan said, adding that he and the passengers had to use emergency exit on the lower part of the bus because two other doors were shut down by the electrical problem.
Pongpan told police he called police after he was unable to put out the flames with a fire extinguisher.
Police are investigating the incident.