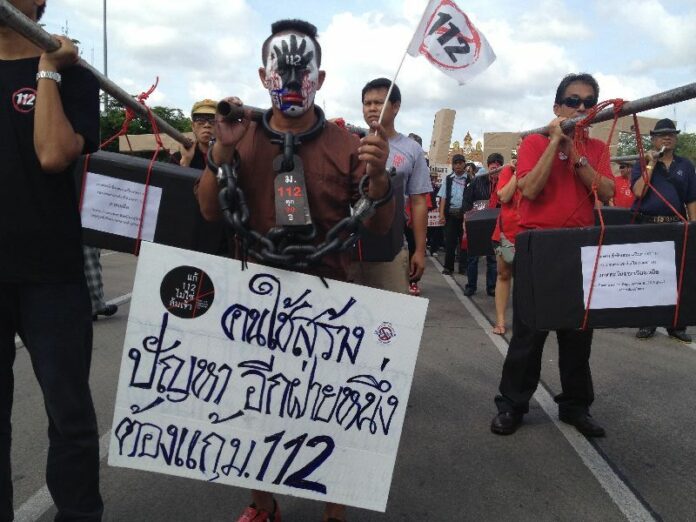 BANGKOK – Thailand's military government is seeking the extradition of 30 Thais living abroad who have been charged with defaming the monarchy, a crime punishable by up to 15 years in prison in Thailand.
Gen. Paiboon Koomchaya, Minister of Justice, said on 21 March that the government has compiled a list of 30 suspects that will be sent to the Ministry of Foreign Affairs to process for extradition.
According to Gen. Paiboon, all 30 have been charged with violating Section 112 of Thailand's Criminal Codes, a law known as lese majeste that criminalizes insulting the Thai Royal Family. Gen. Paiboon described the suspects as a "threat to national security."
"These people fled Thailand to live in neighboring countries and European countries," Gen. Paiboon said, adding that the 30 suspects are believed to be residing in seven different countries.
The general did not release the names or the countries of the fugitives, but added that the list includes Manoon Chaichana, the alleged mastermind of a terror network that attempted to stage several bomb attacks in Bangkok. Police say the network was also behind the grenade attack at the Criminal Court in Bangkok on 7 March, which did not cause any injuries.
The conservative Thai newspaper Naew Na published the following names of 22 individuals it said were included on the list:
1. Ekaphop Luera, aka Tang Acheewa

2. Chatwadee Amornpat, aka Rose London

3. Wuttipong Kodchathammakhun, aka Ko Tee

4. Saran Chuichai, aka Aum Neko

5. Charupong Ruangsuwan

6. Jakrapob Penkair

7. Sunai Chulpongsatorn

8. Chuphong Teetuan

9. Giles Ungpakorn

10. Mananchaya Kenkaew

11. Junya Yimprasert

12. Lerpong Wichaicommart, aka Joe Gordon

13. A Facebook user named "Secret Red Underground Working Group"

14. Pitsanu Promsorn, aka Anti

15. Neti Wichiansaen

16. Ong-art Thanakamolnand

17. Amnuay Kaewchomphoo, aka Woodside New York

18. Manoon Chaichana, aka Anek San Francisco

19. Saneh Thinsaen, aka Piengdin

20. Pisek Sanitthangkul, aka Mafia Family

21. Santi Wongpaiboon

22. Pol.Col. Nahatai Tanya
An official at the Ministry of Justice told Khaosod that the full list mentioned by Gen. Paiboon has not been released to the public as it is considered a state secret at this time. The official said there was concern that releasing the list could prompt the suspects to hide their tracks even further.
"Most of them are in the neighboring countries. Maybe 10 of them are in Western countries," said the official, who asked not to be named.
Although discussion about the monarchy has been a taboo in Thailand for years, the lese majeste law has been enforced with a renewed vigor by the military generals who seized power from an elected government on 22 May 2014. Junta chairman and Prime Minister Gen. Prayuth Chan-ocha, a hardline royalist, has declared rooting out "anti-monarchy elements" one of the top priorities of his administration.