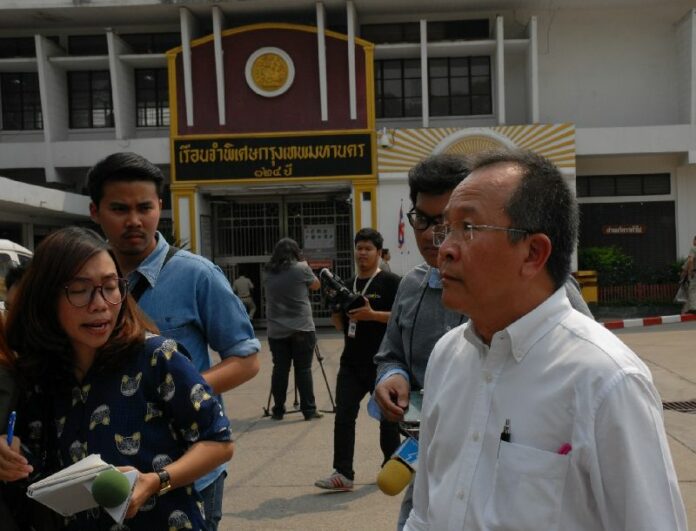 BANGKOK — The Director of Thailand's National Human Rights Commission (NHRC) was turned away by officials at Bangkok Remand Prison today when he tried to meet with four men who say they were tortured by military officers.
The four men, who are awaiting trial on terrorism charges, told their lawyers they were beaten by soldiers who detained them at an army camp for six days before transferring them to police earlier this month.
One of the suspects said he was electrocuted on his legs "30 – 40" times by soldiers because he refused to confess.

NHRC director Niran Pitakwatchara (R) arguing with prison wardens at Bangkok Remand Prison, 25 March 2015.
NHRC director Niran Pitakwatchara visited the prison today with forensic science experts from the Ministry of Justice in an effort to investigate the torture claims.
However, prison wardens said the group could not meet with the suspects because the visit had not been authorized by the Department of Correction's director.
"I am here as a director of the NHRC," Niran fumed after an argument with the prison wardens ensued. "I am a state official. I am not an NGO."
Speaking to reporters afterward, Niran said he sent a letter to the Department of Correction on 20 March.
"They spent four days deliberating on the letter, and they have not yet agreed to allow the NHRC to visit the detainees." Niran said. "This kind of incident has never happened before. According to international human rights principles, visiting detainees in prison is a necessary measure to prevent human rights violations. We are not even required to alert supervisors at each agency, because if we did, they may stage a scene for us."
The director continued, "This is an urgent matter. The United Nations and other human rights organizations around the world asked the NHRC to investigate this incident. Furthermore, it is an issue that has a lot of attention from society."
Niran added that although the Thai army chief and other government officials have denied the torture allegations, an impartial investigation is still needed.
"This is why I invited officials from the Forensic Science Department to come along with me. It is for the sake of credibility and transparency," Niran said.
He also noted that the delay of his meeting with the four men could affect crucial evidence in the case. "Time will reduce clear marks on the body for inspection," he said.
Niran said he will summon representatives from all relevant agencies, such as the military, police, prison, and lawyers of the four suspects for a meeting at the NHRC headquarters on 30 March.

One of the suspects, Sansern Sri-unruen, shows Prachatai news evidence of alleged electrocution on his leg applied by soliders, 19 March 2015 [Prachatai].
The four men, Sansern Sri-unruen, Charnvit Jariyanukul, Norapat Luepol, and Wichai Yoosuk, have been accused of participating in a plot to "create chaos" and draw an intervention from the United Nations by staging bomb attacks around Bangkok. Police say the network was responsible for the grenade attack at the Criminal Court on the night 7 March. No one was injured in the explosion, which caused minor damages to the court's parking lot.
At least 17 arrest warrants have been issued in connection with the case so far.
All arrested suspects have been detained at army camps for up to seven days of interrogation prior to hearing their charges. They are now facing trial in martial court, where military officers serve as judges and appeals are not permitted.
Related coverage:
Martial Court Denies Alleged Torture Victim Bail
Army Chief Threatens Legal Action Over Torture Allegation