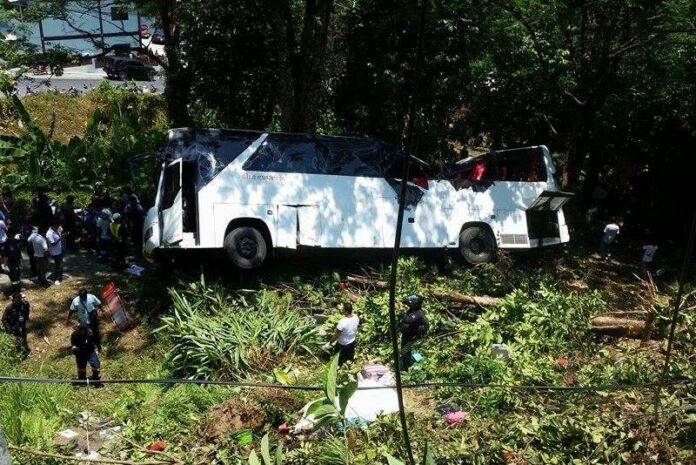 PHUKET — Three Chinese tourists were killed and 16 other passengers were injured in a bus crash in southern Thailand today.
The incident took place at around noon near Karon hill in Phuket province. Kachornwit Srisongkram, 35, identified himself as the driver of the bus and told police he was driving 18 Chinese tourists and one Thai guide from a hotel in Phuket to Krasom pier in Phang Nga province. Kachornwit, who sustained minor injuries, said the bus was operated by a company called Thai Morning Sun.

Rescue workers arrive at the scene after a tour bus crashed in Phuket, 25 March 2015.

Kachornwit said the bus's break system suddenly malfunctioned as he approached a bend in the road. The vehicle then crashed into a roadside barrier and overturned, plunging 30 meters down a slope on the side of the road. The driver said he immediately phoned police for help.
"I am very sad about what happened," Kachornwit said, "I have been working as tour bus driver for more than 10 years. I have never witnessed such incident before. It happened so fast. The bus was over 20 years old."
Police say three Chinese tourists died in the accident, and 15 more were injured, five of them critically. The Thai guide was also wounded in the accident.
Kachornwit has been charged with reckless driving leading to deaths and injuries of others.
Thailand has one of the highest rates of road accidents in the world.