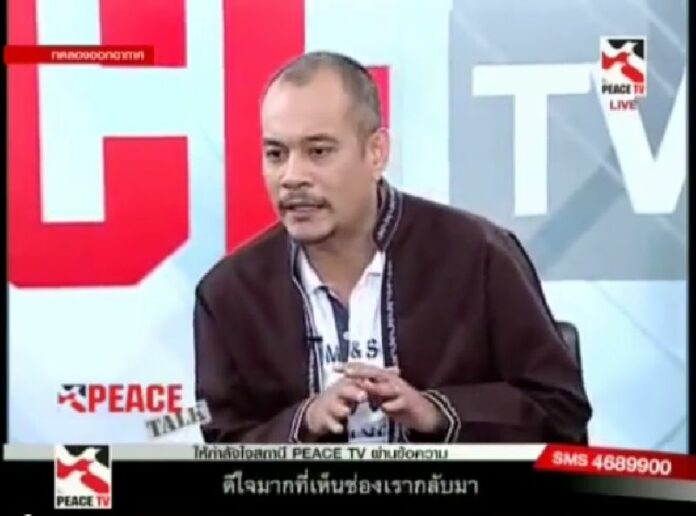 BANGKOK — Two satellite TV channels operated by Redshirt organizations have been suspended from the air for seven days for allegedly "inciting unrest" against the military junta.
The National Broadcasting and Telecommunication Commission (NBTC) ruled today that the channels, Peace TV and TV24 People's Station, violated the junta's order no. 97, which forbids media from fomenting violence or causing "divisions in the Kingdom."

Core Redshirt leader Jatuporn Prompan speaking on Peace TV in September 2014.
Sombat Leelapata, deputy sec-gen of the NBTC, told Manager news that the inquiry was spurred by a complaint from a national security agency that said the two channels were airing news programs and talk shows – some of which were hosted by Redshirt leaders such as Jatuporn Prompan and Nattawut Saikua – that may lead to chaos.
"The majority of those at the meeting concluded that such programs had content that could incite unrest and violate the NCPO's order," Sombat was quoted as saying, referring to the junta's formal name, the National Council for Peace and Order. Sombat said the suspension will last for seven days.
Both of Thailand's Redshirt and Yellowshirt movements operate their own TV and radio channels featuring news programs, talk shows, and live broadcasts of their political rallies. Media agencies affiliated with the two groups played significant roles in the pro- and anti-government rallies last year that culminated in the May 2014 coup.
On 20 May 2014, then-army chief Gen. Prayuth Chan-ocha unilaterally imposed martial law and ordered all partisan media agencies to shut down, ostensibly to promote reconciliation among Thailand's rival political factions. Two days later, the general staged a coup d'etat and toppled the Redshirt-backed government.
The partisan media outlets were later allowed to resume operations under the conditions that they change the names of their stations and refrain from broadcasting any material that could "incite unrest" or "cause confusion in society."
Redshirt leader Cherdchai Tantisirin told Khaosod today that he believes the NBTC is unfairly targeting Redshirt media agencies.
"ASTV [Yellowshirt-run TV channel] is even more divisive than Redshirt TV channels," complained Cherdchai, one of the core leaders of the Redshirts official organization, the United Front of Democracy Against Dictatorship.
"[The junta] says they will repeal martial law, but at the same time, they shut down Redshirt TV," Cherdchai continued. "Their actions contradict their words. They shouldn't have done that. It will only make Gen. Prayuth Chan-ocha look like he intimidates the media without caring in the eyes of international communities. It will make Thailand look bad."
Since seizing power in the 2014, Gen. Prayuth has regularly threatened to shut down media agencies that refuse to cooperate with his government or promote the junta's missions. Although he has stopped short of instituting full-scale media censorship, many Thai media agencies have exercised self-censorship in the face of the junta's intimidation tactics.
"This morning, someone said the media needs to be impartial. No. I don't think they should say that. It isn't good," Gen. Prayuth advised reporters on 5 March 2015, Thailand's National Media Day. "What they should say is, first, media should report news that is factual. Second, they should support the government's efforts to move the country forward. And third, they should help reduce conflicts in society, and create understanding about the government's policies that give clear results."