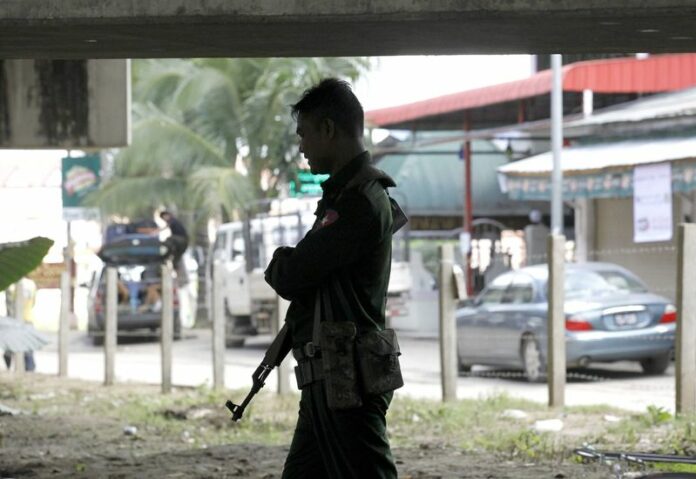 YANGON (DPA) — A long-awaited end to hostilities could be on the horizon in Myanmar after the government and ethnic rebel groups agreed Monday on a draft of a comprehensive ceasefire agreement, with officials saying it could be signed next month.
The new agreement would supersede individual deals the government has made with several armed groups and put into place a comprehensive, nationwide ceasefire.
The nationwide ceasefire agreement (NCA) draft was finished during a seventh round of talks between the government's Union Peacemaking Working Committee and representatives of the ethnic rebels.
"Now we have an all-inclusive draft for NCA, and we hope the signing will be in late April," said senior advisor Hla Maung Shwe of the EU-funded Myanmar Peace Centre.
The latest round of peace talks in Yangon began on March 17.
"It could be possible to have the signing ceremony after the water festival next month," said Naing Han Tha, leader of rebels' Nationwide Ceasefire Coordination Team.
However, even after the NCA signing, there is still a strong likelihood of clashes on the ground as there are still many things that need to be solved, he said.
"This is just a commitment to pursue the sustainable peace. Only political ways can solve these problems," he said.
The breakthrough comes as heavy fighting continues between the government forces and Kokang ethnic rebels in northern Kachin state, members of which are not party to the agreement.
Once the leaders from both sides approve the draft, it will be sent to the legislature for final approval. No changes to the draft are allowed during this process.
Myanmar's government has managed to sign separate ceasefire agreements with 14 out of the 16 ethnic rebel groups under President Thein Sein, the ex-general who came to power in 2011 and is seen by many as a reformist. The new agreement would build upon the 14 existing ones and take in the final groups.
The government of Myanmar has held out the option of signing the NCA with all 16 ethnic rebels since late 2013, which led to a series of drafts with rebel leaders to negotiate the draft's language.
According to the government's proposal, ethnic rebels would have to enter into a political dialogue after the NCA is signed. The signature has has been delayed for more than a year amid ongoing clashes in Myanmar's eastern and northern states, to say nothing of low levels of trust between the government and the rebels.
(Reporting by Kyaw Lynn, dpa)