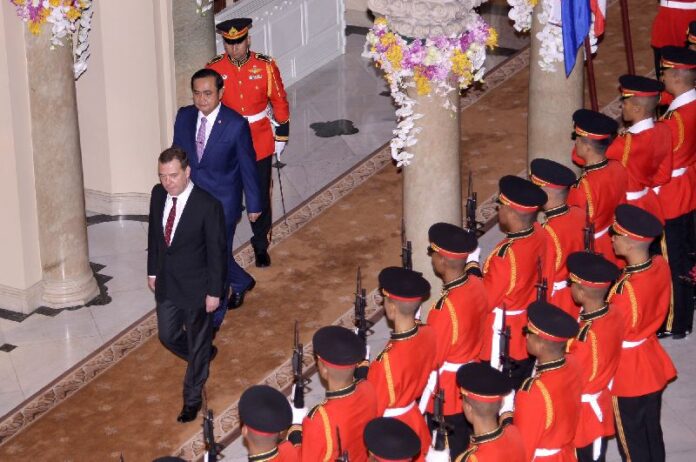 BANGKOK — Thailand's military junta has disputed media reports that it is improving ties with Russia and China in response to tense relations with the United States following last year's military coup.
"Let me insist that we are ready and happy to be friends with every nation that has a policy of constructive cooperation and mutually beneficial assistance with us," said Maj.Gen. Sansern Kaewkamnerd, a government spokesperson. "We have never considered the points that the media has been assuming."
Although Maj.Gen. Sansern did not mention any country by name, he appeared to be referring to speculation among media pundits and analysts that Thailand's military leaders have sought closer relations with Russia and China to gain leverage against the United States, a traditional ally that scaled back diplomatic ties with Thailand following last May's military coup.
Maj.Gen. Sansern insisted that the junta has no plans to downgrade relationships with any foreign governments, even though "some nations may have displayed [willingness] to reconsider relationships with Thailand."
"We understand and respect the ways of every nation," he said.
The US and other democratic governments have criticized the May 2014 military takeover and the junta's suppression of civil rights. A US State Department official said in February that the US will not fully reactivate its military alliance with Thailand until Gen. Prayuth returns the country to democratic rule.
The junta, known officially as the National Council for Peace and Order (NCPO), says elections will not be held until national reconciliation is achieved and the political climate is deemed stable, scheduled for 2016 at the earliest.
The latest diplomatic row between Thailand and the US occurred in January, when a senior US official called upon the junta to repeal martial law and restore civil rights in a speech at Chulalongkorn University in Bangkok. The Thai government called the speech a "disappointing" interference in Thailand's domestic affairs, and summoned the head of the United States Embassy in protest.
While relations with Washington have cooled, Thailand's ties with China and Russia appear to be on the rise. Yesterday Russian Prime Minister Dmitry Medvedev visited Gen. Prayuth at the Government House – the first visit by a foreign leader outside Asia since the 2014 coup. The two leaders signed bilateral agreements aimed at combating drug trafficking and boosting development in Thailand's energy sector.
Yesterday, Thailand's Minister of Defense left for Beijing to discuss increased defense cooperation.
Pro-coup media agencies in Thailand have applauded the junta for its perceived diplomatic shift away from the US and other western powers. In a column titled "The Dumb-Struck Great Eagle," published in Post Today newspaper, a columnist said Gen. Prayuth has shown the world that Thailand is not a "minion" of the US government.
"The US has been compared to a great eagle with sharp eyes that can easily snatch prey. But in this era, many countries will not wait to be preyed on by the eagle anymore. Now that the eagle has met an intelligent prey, the great eagle will only end up exhausting itself," the columnist wrote. "As the US keeps waiting for democracy, the NCPO government uses that time to build partnership with other superpowers, and seek closer ties with ASEAN members."
A columnist for Thai Post, a conservative newspaper, wrote: "This bear [a nickname for Russia used by the media] is cuddly and deserving of hugs. We can say that it's different to the so-called balding eagle, the Father America, who only picks on us and sees itself as a superior."
Before leaving for China yesterday, Defense Minister and deputy junta chairman Gen. Prawit Wongsuwan insisted that Thailand is not playing any diplomatic games.
"We are ready to improve relations with any nation. We are not being biased about specific nation," Gen. Prawit said told reporters prior to his departure. "It's just coincidence that the two events are happening at the same time. Whoever is visiting us, we welcome the visit, and we will go to any nation that invites us. We are neutral."