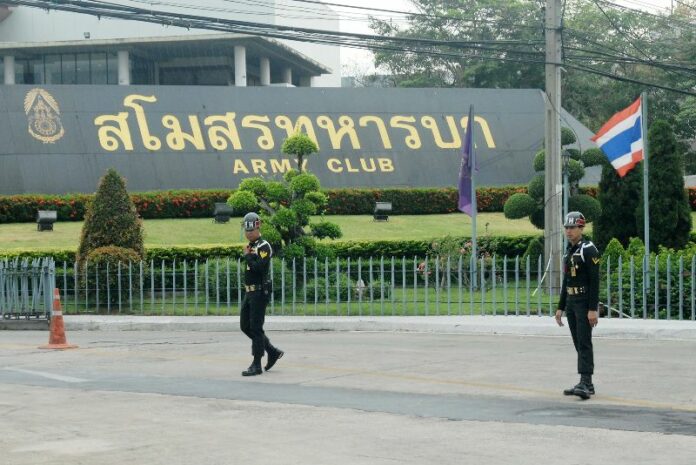 BANGKOK — Thailand's military junta has invited dozens of mostly anti-coup academics, activists, and politicians to a state-sanctioned forum on national reform today.
The forum was organized by the Center for Reconciliation and Reform (CRR), which was established by the junta following the military coup on 22 May 2014.
Military officers personally visited some of the invitees by delivering letters to their homes last night.
Those invited to today's forum include the following, among others:
Phumtham Wechayachai, secretary-general of Pheu Thai Party
Anusorn Eiamsa-ard, spokesperson of Pheu Thai Party
Chaturon Chaisaeng, former Education Minister and critic of the coup
Jatuporn Prompan, leader of the Redshirts' umbrella organization, the United Front of Democracy Against Dictatorship (UDD)
Nattawut Saikua, core UDD activist
Thida Thawornseth, core UDD activist
Abhisit Vejjajiva, leader of Democrat Party
Pichit Likitkijsomboon, Thammasat University professor and critic of the coup
Piyabutr Saengkanokkul, Thammasat University professor, co-founder of Enlightened Jurists group, and critic of the coup
Pongkwan Sawasdipakdi, Thammasat University professor and critic of the coup
Kengkij Kitirianglarp, academic and critic of the coup
Ekachai Chainuvati, Siam University professor and critic of the coup
Arnon Nampha, lawyer and co-founder of anti-coup group Resistant Citizens
Piyarat Chongthep, Thammasat University student and critic of the coup
Winyat Chartmontri, lawyer who has represented many anti-coup activists
Payao Akhard, mother of volunteer nurse killed by soldiers during the military crackdown on Redshirt protests in 2010

Natchacha Kongudom, a pro-democracy student activist from Bangkok University

Yaowalak Anupan, a lawyer and coup critic who co-founded the Thai Lawyer for Human Rights (TLHR)​

Atukkit Sawangsuk, columnist for Khaosod newspaper and critic of the coup

Yodpol Thepsithar, Naresuan University professor and critic of the coup
The invitations said the forum was a part of the CRR's mission to "collect information from people of all sides and groups to conclude, analyze, and determine the road map to solve conflicts, promote unity and reconciliation, and return happiness to the Thai people."
"The Center for Reconciliation and Reform (CRR) has determined that you are a person with knowledge and understanding of the situation that is taking place in Thailand, and an influential thinker in society," the letters read.
After toppling an elected government that was beleaguered by street protests last May, the junta appointed councils to write a new constitution and implement a wide range of national reforms in the name of reconciling Thailand's bitterly divided political factions. The military government has also severely restricted freedom of expression by banning public protests and censoring the media in an effort to silence critics. Earlier this year, a US official was reproached for encouraging the junta to lead a more inclusive reform process.
Today's forum was held at the Army Club on Viphavadi Road, where then-army chief Gen. Prayuth Chan-ocha staged a coup d'etat 11 months ago after after detaining rival politicians and protest leaders who had been invited for a "peace dialogue" at the venue.
"I hope the soldiers will have honor and keep their words that they won't just arrest me there," Ekkachai wrote on his Facebook post last night. "I have to return to take care of my three sons."
Some of the invitees declined to attend the forum. Reporters were not allowed inside the venue, and the attendants were asked to leave their mobile phones at the door.
Speaking to reporters outside the building, UDD leader Jatuporn said he is willing to cooperate with the junta to promote national reconciliation. Winyat, a lawyer who has represented many anti-coup activists, said he was looking forward to providing his opinions on the junta's reform efforts.
"I am a Thai who wants to see reconciliation. Now that the NCPO wants my opinion, I am ready to give it," Winyat said, using an acronym for the junta's formal name, the National Council for Peace and Order. "How the NCPO is exercising its power right now, I want them to end it as quickly as possible, because it affects [people's rights]. They say they are here to solve conflicts in the country, so I give them my support."
Piyabutr, an anti-coup Thammasat professor, wrote on his Facebook that he could not attend the forum because he had to teach a class today, and was only notified of the event yesterday. He also questioned why the military visited him at home instead of mailing a letter.
"Heh, why didn't they send an invitation to my office? Usually, when state agencies invite me to attend a lecture or forum, they send letters or phone me. It's simple," Piyabutr wrote. "That way, they [soldiers] wouldn't have to burden themselves with driving around and trying to find my home for a long time."
For some anti-coup activists, the invitation was reminiscent of the summons orders issued by the junta in the wake of the May 2014 coup. In the weeks following the takeover, more than 300 academics, politicians and activists were publicly summoned to report to army camps, where they were detained for up to seven days of "attitude adjustment." Most detainees were later forced to sign documents pledging not to engage in political activities as a condition of their release.
Somsak Jeamteerasakul, a former Thammasat professor and a staunch critic of the coup who is currently living in exile, wrote on his Facebook that he believes last night's invitations were an attempt to "send a signal" to activists and academics opposed to the military regime.
"It's to send a signal that 'We know who you are. We didn't summon you last night, but don't think we don't know you or don't know what you have been doing for much of the past year,'" wrote Somsak, who defied the junta's summons orders by fleeing the country last year.
The historian observed that many of the invitations were sent to the "new generation" of academics and activists who were not summoned last year. Somsak noted that the "older generation" of anti-coup critics like Worachet Pakeerut and Sombat Boonngarm-anong were not invited to the forum.
"There is no longer a need to summon the first group, because they have been already warned, controlled, and prosecuted," Somsak wrote.