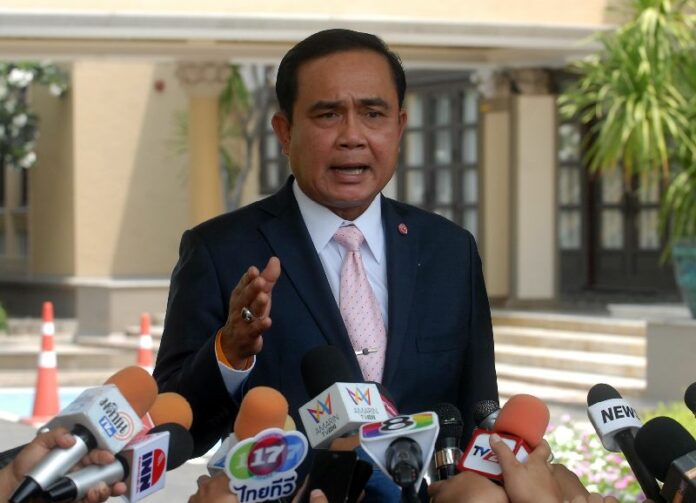 BANGKOK – Thai soldiers mistakenly arrested nine businessmen from an Israeli technology firm while they were meeting with police yesterday, junta officials say.
The nine men, who were demonstrating surveillance equipment to police officers at the Royal Thai Police headquarters, were taken by soldiers to the 2nd Cavalry Division base, where they were questioned and then released without charges, junta spokesperson Col. Winthai Suwaree told reporters today.
Col. Winthai said police were informed beforehand of the arrest, but several officers at the Special Branch Police told Khaosod they were taken by complete surprise when at least 10 armed soldiers arrived on three military vehicles and took the nine men without police's permission.
The soldiers reportedly informed police they were acting under Order 3/2558, an order issued by the junta chairman that allows soldiers to detain individuals without charges.
According to the officers, the businessmen were demonstrating a device that would improve Thai police's ability to intercept phone calls, track the location of phone users, and analyze calling data.
Junta chairman and Prime Minister Prayuth Chan-ocha told reporters today that the arrests were caused by a misunderstanding.
"Yes, I have been briefed about it. It was a slight misunderstanding," Gen. Prayuth said this morning, adding that he has apologized to the commanders of the Royal Thai Police and the Special Branch Police.
"We have reached understanding with each other now," Gen. Prayuth said. "From now on, I want [security officers] to coordinate with each other. In this case, there was no coordination at all, so the subordinates… well, everyone just tried to do their duties. We had no intention to violate anyone's dignity."
Asked whether the incident was a sign of discord between the police and army, Gen. Prayuth replied, "How can there be discord? Does the media want us to fight each other? I am explaining to you: we have already talked with each other. It's over. The media should make it over, too. You want the police and soldiers to fight each other? Don't be concerned about this. I am more concerned about this than the media. Don't be concerned about something that is not your duty."
The Israeli Embassy told Khaosod English the businessmen, not all of whom are Israeli nationals, were representatives of a well-known Israeli technology firm invited to demonstrate their products to Thai police.
"Even though they obtained all necessary documents and permits from the relevant Thai government agencies as required by law, for some unclear reason they were detained by Thai military authorities," Simon Roded, Israeli ambassador to Thailand, said in an email. "The group was treated with a polite and respectful manner; and well taken care of."
He added, "After some inquiries and the intervention of the Embassy of Israel, it became evident that this is all an internal misunderstanding of the Thai authorities. The group was let go and we accepted the apology of the Thai representatives."
Correction: The original version of this article misidentified the name and title of ambassador Simon Roded.