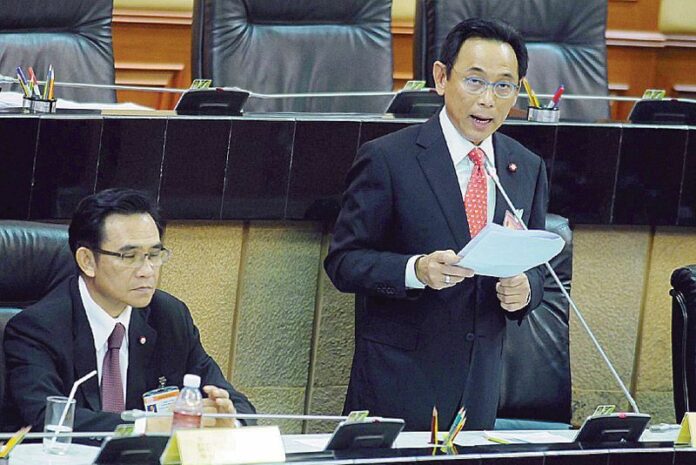 BANGKOK — Three former government officials have been retroactively impeached by the Thai junta's rubber-stamp parliament for their involvement in a fraudulent rice sale.
The three officials, who worked for the elected government toppled in the coup, include former Minister of Commerce Boonsong Teriyapirom, former deputy Minister of Commerce Poom Sarapol, and former director of the Department of Foreign Trade Manus Soiploy.

The NLA voted to impeach the three former government officials on 8 May 2015.
According to the National Anti-Corruption Commission (NACC), the trio oversaw rice sales that were falsely billed as a Government-to-Government (G2G) trade with China.
It later emerged that the two Chinese companies named in the deal were not authorized to purchase rice on behalf of the Chinese government, and that the rice was eventually sold at a low price to Thai firms with close ties to the ruling Pheu Thai Party, before being distributed in Thai markets, according to the NACC.
The junta-appointed National Legislative Assembly (NLA), an interim parliament whose members were chosen by the ruling junta, began deliberation on the officials in early April and voted to impeach all three today.
The ballots were counted at noon, revealing overwhelming majorities in the assembly for retroactively impeaching the politicians and thereby banning them from politics for five years.
Boonsong was impeached by 180-6 vote, with four abstentions; Poom was impeached by a 182-5 vote, with two abstentions and one spoiled ballot; and Manus was impeached by a 158-25 vote, with six abstentions and one spoiled ballot.
There is no immediate comment from Boonsong, Poom, and Manus.
In January, the NLA similarly voted to impeach former Prime Minister Yingluck Shinawatra for failing to prevent graft in the rice-pledging scheme, a key policy of her administration. The rice mortgage program, which involved purchasing rice from farmers at above-market prices, was popular among the Pheu Thai's rural support base but bashed by critics who said the scheme was financially ruinous and rife with corruption.
According to the NACC, mismanagement and corruption in the rice program cost the state more than 500 billion baht in damages.
Yingluck and her supporters say her impeachment ruling was a politcally-motivated effort to curb the influence of the Pheu Thai party, whose politicians have won every national election in the past decade.