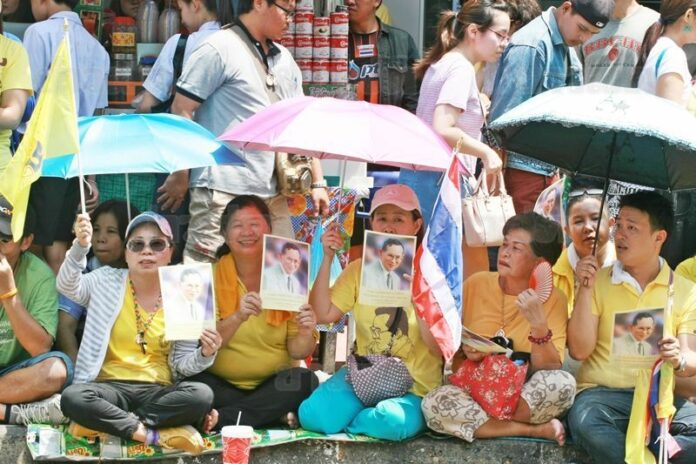 BANGKOK — A 65-year-old woman has been sentenced to one year in prison for publicly kicking a portrait of His Majesty the King, despite being recognized as mentally unstable by the court.
Thitinand Kaewchantranond, 65, was arrested after she reacted angrily to a Constitutional Court verdict in July 2012 that prevented the Pheu Thai-led government from amending the 2007 constitution.

Bangkokians line the street in celebration as King Bhumibol's motorcade leaves Siriaj Hospital, 10 May 2015.
Thitinand and other supporters of the Pheu Thai Party were gathering in front of the courthouse on Chaeng Wattana Road when the verdict was read. According to prosecutors, Thitinand kicked and stomped on a portrait of King Bhumibol in protest.
A lower court found her guilty of insulting the monarchy, a crime known as lese majeste, but suspended her two-year sentence because she was found to be mentally ill. A psychiatrist who treated Thitinand testified in court that she was diagnosed with bipolar disorder.
The court also ordered Thitinand to receive psychiatric treatment and report to authorities every six months for two years.
However, the prosecutor appealed the ruling, and today a Court of Appeal sentenced Thitinand to one year in prison.
According to Matichon newspaper, the court described Thitinand's action as "a severe crime" that warrants a punishment "to prevent others from repeating such action."
Although the court acknowledged that Thitinand was mentally ill and upheld the mandatory psychiatric treatment, it ruled that the defendant "could have exercised some restraint" when she committed the wrongdoing, Matichon reported.
Any comments or actions deemed libelous toward the Royal Family are punishable by up to 15 years in prison, according to Section 112 of the Thai Criminal Codes.
Critics of the law say it is used to stifle freedom of expression and prosecute political opponents in Thailand.
Somsak Jeamteerasakul, historian and prominent critic of the Thai monarchy, compared today's verdict to a court ruling in 2007, which suspended the jail term of a motorist who killed a pedestrian because he was deemed mentally unstable.
"It is clear that for Thai court, lifting your feet toward a portrait is more severe than deliberately driving onto a footpath and killing a person," Somsak wrote on his official Facebook account. "This is a caveman culture. Disrespecting a portrait is more severe than hurting a person's life."
Somsak fled Thailand shortly after the coup d'etat in May 2014 and is currently living in exile in Europe.
Although lese majeste is most commonly used to prosecute people who say or write critical remarks about the monarchy, it is also used to punish symbolic acts of defamation.
In March 2007, Swiss national Oliver Jufer was sentenced to 10 years in prison for spray-painting over a portrait of King Bhumibol in Chiang Mai. The King granted Jufer a royal pardon a month later, and he was deported from Thailand, where he had been living for more than a decade.
In August 2013, the court sentenced a Pheu Thai supporter to three years in jail for burning a mock coffin bearing the name of King Bhumibol's top adviser, known officially as the Privy Councillor, even though lese majeste does not cover the Privy Council.