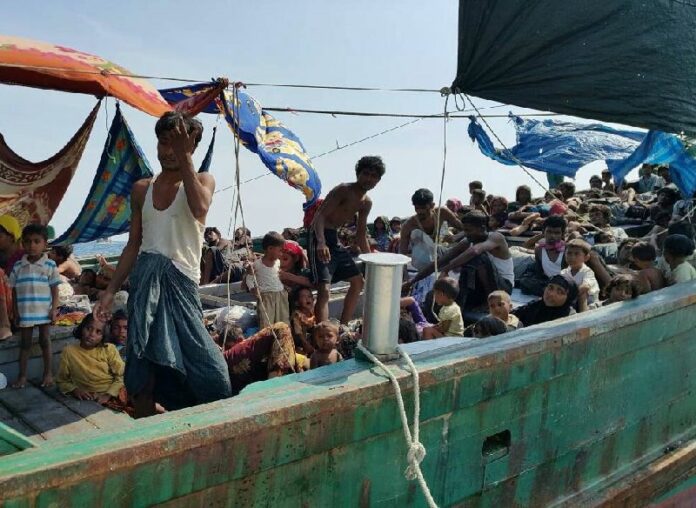 BANGKOK — The Royal Thai Navy has denied threatening to shoot at a boat of Rohingya refugees in Thai waters last week, a government spokesperson said.
A 23-year-old passenger on the rickety green boat told AP yesterday that Thai naval officers towed the ship out to sea after providing food and water, and then threatened to shoot if they returned.
After being rejected by several countries in the region, the overcrowded boat was rescued by Indonesian fishermen and brought to shore in Aceh yesterday.
"The government and the navy would like to reject this completely baseless news," said Maj.Gen. Sansern Kaewkamnerd, spokesperson of the Thai Prime Minister's Office. "It also made the Navy, who is dedicated in its works to help fellow humans and defend the maritime sovereignty of the nation, very sad."
He told reporters that he has personally spoken to every Naval officer involved in the encounter, and that each one denied the allegation.
Maj.Gen. Sansern also reiterated that the ship's passengers told officers they wanted to continue to a third country.
Thailand will continue its policy of providing humanitarian aid to boats bound for other nations, but treat any migrants who land Thai shores as illegal immigrants, he said.
"Even though we have been accused unfairly, which leads to a risk that the international community will misunderstand Thailand, the Thai government will not change its policy to treat these irregular migrants," Maj.Gen. Sansern said.
Yesterday, after a week of playing "maritime ping-pong" with the boat people, Indonesia and Mayalsia decided to open their shores and provide temporary shelter for up to one year. Thailand declined to join the initiative.
The boat people are primarily Bangladeshis fleeing poverty, and Rohingya Muslims escaping ethno-religious persecution in Myanmar. Most are seeking to settle in Muslim-majority Malaysia or Indonesia, though Thailand has traditionally been used as a transit country for human smugglers and traffickers.
The surge of stranded migrants off shore – estimated to be as many as 8,000 – was triggered in part by Thailand's clampdown on smuggling operations in the south earlier this month. After sweeping the region, Thai police have found several mass graves and jungle camps used by traffickers to detain and abuse migrants until their relatives send hefty ransom sums.
Thailand will hold an international summit to discuss the crisis on 29 May.