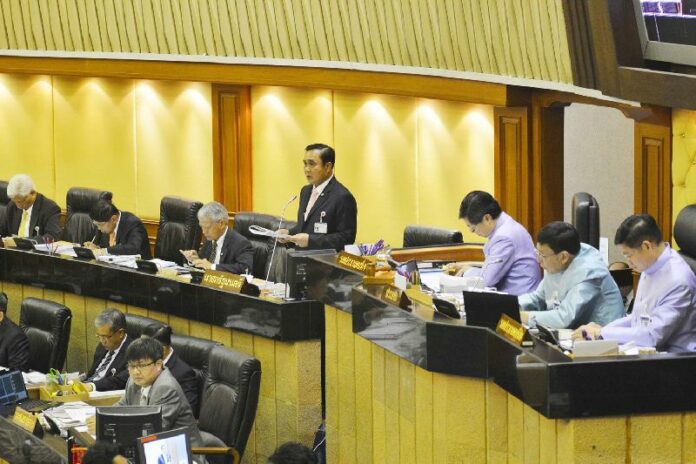 BANGKOK — The Thai junta's rubber stamp parliament has approved a 2.72 trillion baht budget for the 2016 fiscal year, awarding the Education, Interior, and Defense Ministries the largest chunks of spending.
The three ministries will receive 520 billion baht, 343 billion baht, and 207 billion baht, respectively.
The budget reflects the steady rise of spending allotted to the Ministry of Defense over the past decade; the Ministry received 193 billion baht in the last budget, and 184 billion baht the year before.

Gen. Prayuth flashes a rare smile during the parliamentary budget hearing on 21 May 2015.
Gen. Prayuth Chan-ocha, who seized power from an elected government exactly twelve months ago and later installed himself as Prime Minister, kicked off the parliamentary session yesterday with a 2 hour speech.
He described the enormous "pressure" he has faced since seizing control of the country one year ago, but conceded that he had no one to blame but himself.
"Don't pity me today, because I brought this upon myself," Gen. Prayuth told the junta-appointed National Legislative Assembly (NLA). "I have been burdened with expectations and pressure. I am under a lot of pressure. My family is pressured. But today, I will work to the fullest. Please believe me that I will not seek personal gain for anyone."
He also asked the public to be patient with his effort to root out corrupt officials.
"If you tell me to remove all the bad people from the system, it cannot be done," Gen. Prayuth said. "There are 400,000 bureaucrats out there. If I were to obey the media, I would have to remove 200,000 of them. And where would I place these people? In order to remove them, I need evidence of wrongdoing first."
The general continued, "The military also has some bullies and drunkards, but slap them around the head a few times and they will come to their senses. Please rest assured that the military is sincere at heart."
Gen. Prayuth, who is known for his long-winded and unpredictable speeches, had to pause several times to catch his breath and ask for water.
At one point, a parliament staff passed a note to Gen. Prayuth informing him that his sign language interpreter could not keep up with the pace of his speech.
"The [interpreter] can't keep up," Gen. Prayuth said after reading the note, "I apologize. I rarely go on live shows."
Gen. Prayuth also veered off his script to suddenly ask the NLA to applaud his performance over the past year.
"Am I good? If you think I'm good, give me some applause," Gen. Prayuth said. The NLA members dutifully complied.
The budget plan was unanimously approved by 186 votes, with five abstentions.
As the session was wrapping up around 7 pm, NLA chairman Pornpetch Wichitcholchai asked the lawmakers to give another round of applause to show their "honor and thanks" to Gen. Prayuth.