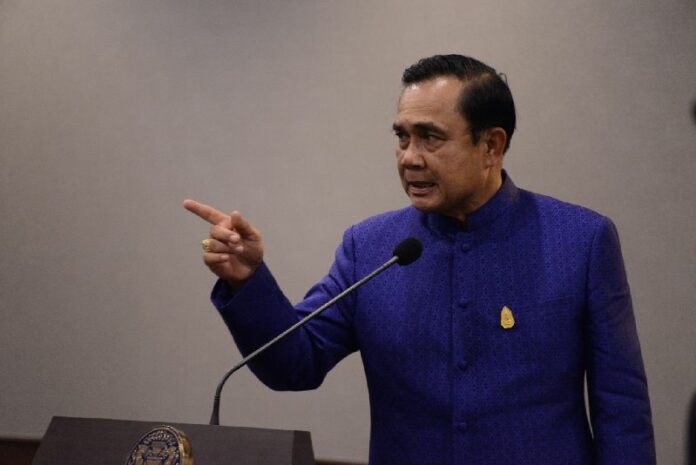 BANGKOK — Thai junta chairman Gen. Prayuth Chan-ocha said authorities are investigating Rohingya rights advocates in Thailand to determine whether they are linked to human trafficking operations.
"The organizations that are involved in taking care of Rohingyas in Thailand, we are investigating how they are related to the operation, because people involved in human trafficking include Rohingyas," Gen. Prayuth said at the Government House today.
At least 300 migrants from the Bay of Bengal, many of whom are Rohingya Muslims from Myanmar, have been intercepted by Thai police this month after authorities launched a crackdown on human smuggling networks in the south.
The Rohingya Association of Thailand and several other NGOs have been coordinating aid for the migrants who are now being held in shelter homes.
The groups have also lobbied for recognizing the stateless Rohingya as Burmese nationals. The Burmese government currently denies the Muslim minority citizenship, claiming that are Bengali immigrants despite the fact that many Rohingya have lived in Myanmar (Burma) for generations.
"I wonder whether these associations have been deliberately fanning the news right now, because the problem has been here for more than ten years," Gen. Prayuth said today. "We must completely trace how some of the news has emerged, and what the backgrounds of these associations are, whether they are legally registered. If they are, they have to obey Thai laws, since they are now in Thailand. We have to find clarity about this."
He also told reporters that the investigation should not be seen as an attempt to bully the Rohingya associations.
"This is not a punishment – I'm afraid media will write that I am bullying them," he said. "I want to know how these Rohingya associations have been spreading news. They have to help us and tell us what they know, and how they know about it. They have to help us."
For years, Thai authorities have turned a blind eye to smuggling operations that ferry Rohingyas from western Myanmar to Malaysia, via southern Thailand. Some migrants voluntarily pay brokers to help them escape ethnic and religious persecution in Myanmar, while others have reported being kidnapped by traffickers. Most are ultimately held in jungle prisions in Thailand while smugglers extort their relatives for ransom fees.
The discovery of a detention camp and mass graves of migrants' corpses in southern Thailand earlier this month spurred a crackdown on human trafficking operations. Since 1 May, police have issued 70 arrest warrants and arrested 46 people, including bureaucrats, local officials, and police officers.
However, not a single military officer has been named as a suspect, despite allegations by human rights organizations that members of the Thai armed forces are complicit in the trade.
In December 2013, the Thai Navy filed a libel lawsuit against two journalists in Phuket province for publishing an excerpt from a Reuters article that alleged that some Thai Navy officers were involved in human trafficking.