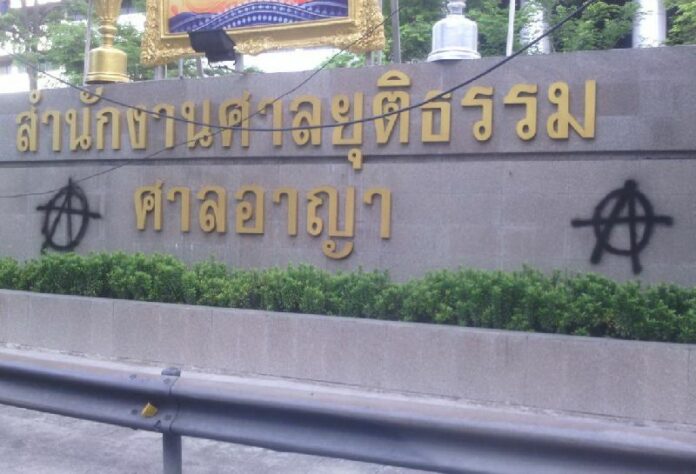 BANGKOK — Police say they have arrested the man responsible for spray painting two anarchy symbols on the entrance sign to the Criminal Court in Bangkok.
According to police, Nattapol Kemngoen, 22, confessed to spraying the graffiti at the court on Ratchapisek Road on the night of 24 May. Police say they tracked Nattapol down using CCTV footage from the area, and arrested him today. He has been charged with damaging public property.

The anarchy symbols spray-painted on the Criminal Court in Bangkok on 24 May 2015. [Photo provided by court official]
Nattapol told police he was driven by a desire to seek justice for his friend who was shot dead by a soldier after the pair got in an argument on 8 February, said Col. Panudej Sukkawong, superintendent of Phahonyothin Police Station.
"He felt that the case was not going as fast as he wished, so he felt angry, because he wanted to see justice," Col. Panudej said.
Police say Nattapol may also face an additional charge of contempt of court.
The Criminal Court on Ratchadapisek Road has come under several politically-motivated attacks in recent years. On 17 February 2014, at the height of the protests against then-Prime Minister Yingluck Shinawatra, unknown perpetrators fired a grenade at the court at night. No one was injured.
The latest attack took place on 7 March 2015, when two men on motorcycle reportedly threw a grenade into the court parking lot, causing minor damages. The military said they managed to detain the two suspects on site. The two men, Mahahin Khunthong and Wichai Yoosuk, are currently facing trial in the military court.