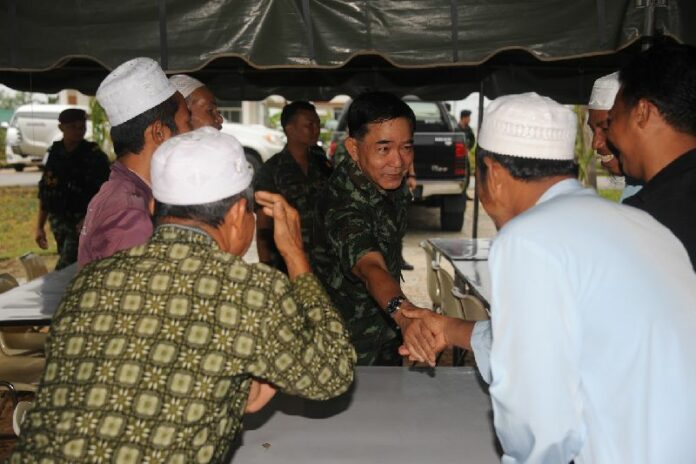 NARATHIWAT — The Thai army says it will allow members of the southern separatist movement currently living in Malaysian to visit Thailand during the Islamic holy month of Ramadan.
"The army will permit dissidents who have gone to live in Malaysia to visit their home country and practice religious activities," said Col. Somdej Yotha, commander of the 151st Infantry Regiment. "The army will not arrest these individuals. We will also issue certificates to guarantee their travel."
He added, "The army will guarantee their safety to display our sincerity to solve the problem."
Ramadan is expected to begin on 17 June, depending on the observation of the moon by Islamic religious authorities.
"The Fourth Region Army has already sent written notifications to all relevant agencies," Col. Somdej explained. "Every agency agreed to the order and promised to accommodate any dissidents, including those who have been issued arrest warrants, to enter the Kingdom during that time [Ramadan]."
For the past decade, separatists have been battling Thai security forces the southern provinces of Pattani, Yala, and Narathiwat – a region known as the Deep South – in an effort to revive the independent state of Patani. The sultanate was annexed by Thailand at the beginning of the 20th century.
Some top members of the separatist network are believed to be assisting the movement from exile, including Hasan Taib, a core leader of the BRN Coordinate, and Kastori Mahkota, president of the Pattani United Liberation Front (PULO), who are based in Malaysia and Sweden, respectively.
The bloody insurgency has claimed the lives of more than 6,200 people since the most recent waves of violence broke out in January 2004, according to data compiled by rights groups.
Experts say the conflict is largely fueled by ethnic and religious differences. In contrast to the rest of Thailand, which is overwhelmingly Buddhist, a majority of residents in the Deep South are Muslims who speak a distinct dialect and consider themselves descendants of Patani Malays.
Col. Somdej said he met today with six former members of BRN Coordinate, a militant group behind many attacks in region, and asked them to relay the army's offer to sympathizers of the separatist movement in Malaysia.
He also invited BRN operatives on behalf of Lt.Gen. Prakarn Chollayuth, commander of the Fourth Region Army, to engage in peace dialogues with the Thai authorities in the future.