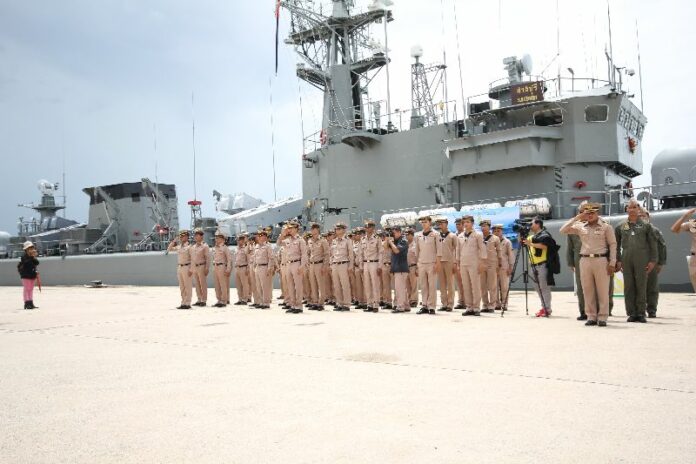 BANGKOK (DPA) — A Thai Navy ship arrived in Phuket ahead of deployment to aid in the migrant crisis, an official confirmed Tuesday.
The amphibious-assault vessel HTMS Ang-Thong stopped at the navy base on the resort island on Tuesday before continuing to the Andaman sea.

Thai naval officers in Phuket in 26 May 2015.
It will serve as the command-and-control ship for humanitarian assistance operations, aided by its two helicopters and on-board emergency medical team, Captain Benjamaporn Wongnakornsawang said.
The navy will provide immediate assistance to migrants before sending their ships on to Indonesia and Malaysia, which agreed last week to give temporary shelter to the more than 7,000 currently estimated to be at sea in the area.
Bangkok has so far refused to accept any of the sea-borne migrants, mostly from Bangladesh and Myanmar's ethnic Rohingya group, arguing that they do not see Thailand as their "final destination."
Prime Minister Prayuth Chan-ocha said on Monday that any who land in Thailand would be given medical and emergency assistance but would be prosecuted for illegal entry.
The Rohingya say they suffer discrimination in Myanmar, which does not recognize them as one of the country's official ethnic groups and considers them illegal Bengali immigrants.
Related coverage: