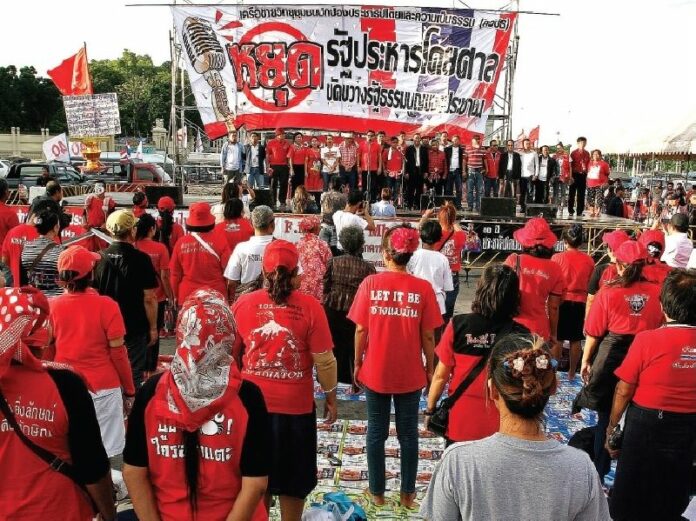 ROI ET — Soldiers have disrupted two meetings organized by Pheu Thai politicians who were gathering in northeastern Thailand this week to discuss their legal defense for a pending impeachment trial.
Twenty former MPs were scheduled to meet at a hotel in Roi Et province today to discuss their legal strategy for a trial before the junta's parliament, which is deliberating on whether to impeach 250 Pheu Thai politicians for their attempt to amend the constitution in 2012 to make the Senate a fully-elected body. If found guilty, the MPs would be banned from politics for five years.
However, the group decided to "indefinitely postpone" today's meeting after they arrived to see soldiers posted at the venue, said Chusak Sirinin, the head of Pheu Thai Party's legal team.
"Even though we tried to reach an understanding with them, we had a hard time talking to them," Chusak said. "Although we believe this is not a political meeting, for the sake of peace of mind for former MPs in the area and all relevant officials, we decided to postpone the meeting indefinitely."
Political activities of any kind are still banned by the military junta, which came to power after staging a coup d'etat against a Pheu Thai-led government and dissolving the constitution on 22 May 2014.
Yesterday, soldiers showed up to a similar meeting that was being held between Pheu Thai's legal team and 31 former MPs and other high-ranking politicians, including former Prime Minister Somchai Wongsawat, at a hotel in Udon Thani province.
The meeting was allowed to go ahead on the condition that two soldiers were present during the discussion at all times. Reporters were not permitted to observe the discussion.
Speaking after yesterday's meeting, former PM Somchai said the meeting strictly concerned preparing the MPs for their trial.
"In this discussion, no politics was involved," said Somchai, who is a brother-in-law of former Prime Minister Thaksin Shinawatra, the de facto leader of Pheu Thai Party. "When the military negotiated for participation in the meeting, we gave them permission. We had nothing to hide. It was for the sake of peace of mind of both sides. We didn't do anything that posed a threat to national security."
He added that he still regularly talks to Thaksin on the phone.
"I talk to him as a brother and relative," said Somchai. "We ask each other about what we go through in our daily lives. Thaksin has told me he's done with politics. He'd rather stay still. He already has grandchildren, so he prefers taking care of his grandchildren."
Thaksin has been living in exile since 2008, when he was convicted of corruption two years after being ousted in a military coup.
Since the May 2014 military takeover, Thailand's anti-graft agency has aggressively pursued impeachment trials against members of the former government. In January 2015, the National Anti-Corruption Commission (NACC) successfully lobbied for the impeachment of former PM Yingluck Shinawatra, resulting in a five year ban from politics.
Yingluck, a younger sister of Thaksin, was charged with dereliction of duty for allegedly neglecting to stop massive corruption in government's rice program.
The NACC has also launched a criminal case against Yingluck in the Supreme Court for her alleged negligence. If found guilty, the former PM may be jailed up to ten years.
Earlier this month, three top officials from Yingluck's government were also impeached for their involvement in the rice program.
Pheu Thai supporters say the impeachment rulings are an effort to curb the influence of the party, whose allies have won every national election for the past decade.