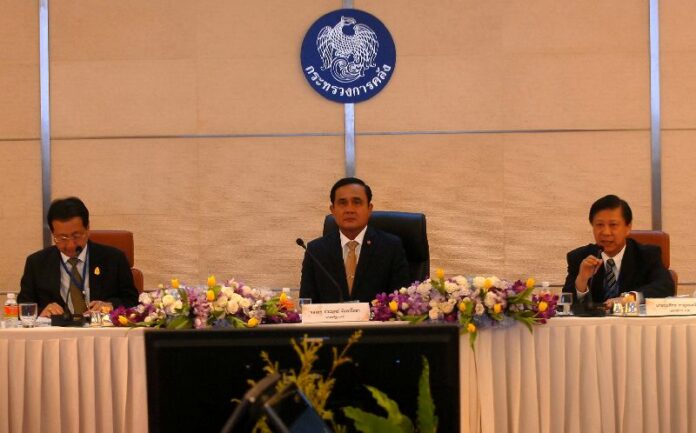 BANGKOK — Junta chairman and Prime Minister Prayuth Chan-ocha said he will stay in power for two more years if the measure – which was recently proposed by members of the junta's reform body – has support from the Thai people.
The junta chairman was referring to a proposal submitted by 26 members of the National Reform Council that calls for holding a referendum to determine whether to postpone national elections for two more years so that Gen. Prayuth can continue working on his stated missions of reforming and reconciling the country.
"I'm so-so. If they want me to stay, I will do it," said Gen. Prayuth, who seized power in coup d'etat one year ago.
"I won't stay by using power. If everyone wants me to stay, I will stay, I will do it for you. But you have to help shield me from domestic and external [pressures] – the accusations that I want to hold on to my power. I don't want power, because I don't have anything to gain from this. I only want to make this country better."
He continued, "Let me ask you, do you think I would be happy if I were to stay? If they want me to stay, find a channel. But whether this proposal is good or not, I don't know. How can I deliberate on it and say whether it's good? Because I am in power right now, how can I say whether it will be good if I stay longer? Can I say that right here? So, today, whoever wants me to reform the country, the people must go and find me a way."
According to the junta's current timetable, a national election will take place by September 2016 at the earliest, given that the public votes in favor of the new constitution being drafted under the junta's oversight.
After seizing power in May 2014, Gen. Prayuth appointed several committees to implement reforms across a variety of sectors. Throughout the reform process, the junta has kept a tight lid on freedom of expression in the name of reconciling the country's divided political factions, which were staging mass rallies in Bangkok prior to the coup. Those who violate the junta's ban on politicial activities and protests are usually arrested, and some have been prosecuted in martial court.
When a reporter asked Gen. Prayuth to comment on whether his current government or the next elected government will be better suited for reforming the country, the general replied, "You want democracy, isn't that right? You told me I am not democratic. I didn't come here through an election. You keep telling me that every day. International communities also ask me when there will be the next election. So, it's up to Thai people, how they will set the future of Thailand. It's up the 67 million Thai people. It's their say, not mine."
When the reporter commented that a wave of criticism is expected to break out if Gen. Prayuth decides to stay on for two more years, Gen. Prayuth quipped, "I am not afraid of criticism. The more you criticize me, the more resolve I have."