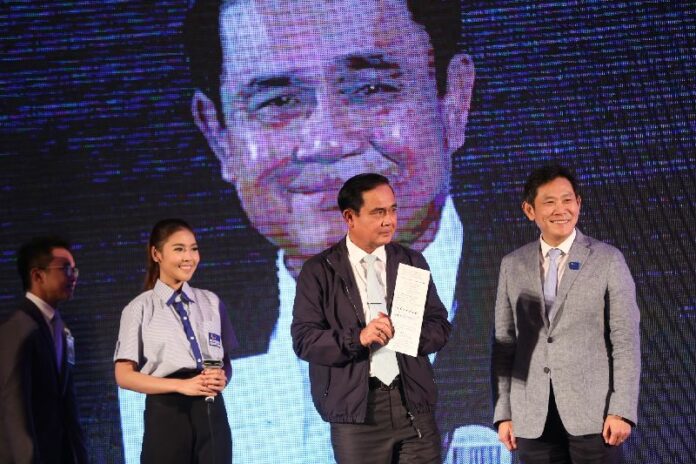 BANGKOK — Junta chairman and Prime Minister Prayuth Chan-ocha reiterated today that he is willing to delay national elections and stay in power for two more years if "the people" demand it.
Supporters of the military junta, including 26 members of the junta-appointed National Reform Council, have been publicly urging Gen. Prayuth to extend his "road map" to democracy by two years in order to complete the reform process he launched after staging a coup in May 2014.
As it stands now, a national election is expected to be held in September 2016 if the new charter, which is being drafted under the junta's oversight, passes a national referendum.
Yesterday Gen. Prayuth said he would agree to stay on for two more years if the public approved the measure in a vote. He repeated his stance in a press conference with reporters at Government House today. Below are excerpts from the conference.
Reporter: Many NRC members have proposed that the Prime Minister stay for two more years to complete the national reforms.
Prayuth: Are the NRC the people? How many people are there in the country? There are 60 to 70 million people here. And about this proposal for a referendum for the government to stay and complete reforms, can it be done? If it can be done, do it. If it cannot be done, don't. It's not like I am saying yes to it. I am not. You have to understand that a commander or a leader has to respect other people as well. Now that they have put forth the proposal, I cannot simply dismiss them. Isn't that right? I have to thank them. If it can be done, it's up to the people to do it. It doesn't mean I am saying this because I accept it or I am happy about it. If I do not have to do anything more, if it's over at this point, I will be relieved. It's up to the next government. Let them do the work. I have done this much. But if they want me to do it, how to stay and make foreigners accept me – that will be my problem.
Reporter: Judging from the current situation, do you think you should stay?
Prayuth: I do not think like that. I only think about doing my best with the remaining time, and solving problems as fast as I can. But I cannot solve all the problems. The people expect a lot from me. They want everything to be solved. Can they not see that some things are really complicated? There needs to be a complete overhaul. It takes time. But it does not mean that I will monopolize it. I did the work, I started it, I drafted the plan and the laws, it depends on who will continue these works. It's up to the people and Thailand.
Reporter: If the majority of the people vote in favor in the referendum for you to stay —
Prayuth: How can the referendum be done? Answer me first. There has to be an amendment in the interim charter, no? If so, you have to ask the Election Commission whether it can be done. I don't know if it can be done. Don't get me involved in this.
Reporter: What if there is a referendum and the people vote for you to stay?
Prayuth: It depends on the constitution. Is it written in there? The referendum for me to stay, is it written in there?
Reporter: So you will not oppose it if they want you to stay for two more years?
Prayuth: Don't use "if" with me. But, if it is the voice of the people, how can I oppose it? Are you Thai? I am here, I am doing this for the Thai people, is that not right? Am I doing this for others? If they want me to continue my work, then they must help create understanding, for people in the country, for politicians, and others, that I do not want power. It depends on Thailand, what kind of future the people want. It may not be me. The referendum may choose someone other than me.
Reporter: Does it mean that you can stay in power indefinitely as long as a new charter is not promulgated?
Prayuth [raises his voice]: What do you mean, indefinitely? How? What does the [interim] charter say? It doesn't say I will stay on indefinitely. Talk some sense. Don't use the word indefinitely. Am I staying till next life? Say it correctly. What does the constitution say? It has limits of 60 days, 90 days, 120 days. Read it sometimes.
Reporter: But there are people who want you to stay, and others who don't want you to stay.
Prayuth: Hey, You already know that! Of course, it is that way. Why are you asking me this?
Reporter: Are you worried about the opposition?
Prayuth: You keep asking me about troubles. You keep writing about troubles.