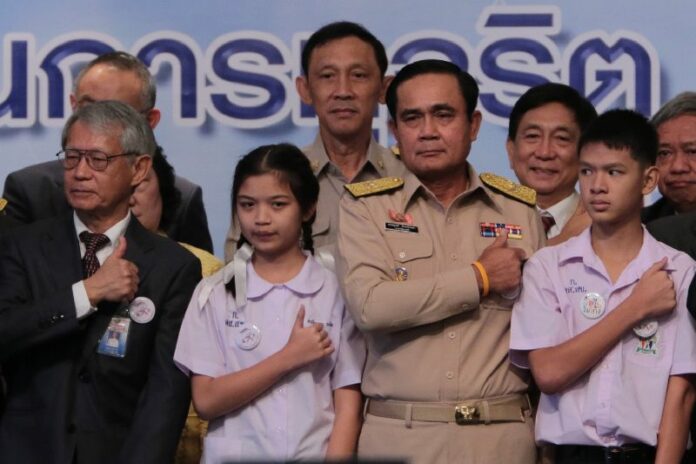 BANGKOK — Thailand's military government is not concerned with the international community's reaction to a proposal that junta chairman Gen. Prayuth Chan-och stay in power for two more years, a spokesperson said.
"There has been no reaction from foreign [governments], and it is not something that should concern us either," said Maj.Gen. Weerachon Sukhondhapatipak.
He was referring to a measure, put forth by 26 members of the junta-appointed National Reform Council (NRC), that calls for holding a referendum on whether Gen. Prayuth should push back elections for two more years in order to complete his government's reform projects.
"Sometimes, foreigners have to listen to Thai people's opinions," Maj.Gen. Weerachon said. "If foreigners disagree with some issues that are the desires of Thai people, to whom should we give more importance, fellow Thai people or foreigners?"
The spokesperson said the international community would have no grounds to protest the measure if it was backed by the Thai people in a referendum.
"It would be considered the consensus of the country," he said.
Under the junta's current "road map" for the return to civilian rule, the next election is scheduled to take place in September 2016 at the earliest.
After toppling a democratic government in May 2014, Gen. Prayuth appointed the NRC to propose reforms across a variety of sectors – including politics, economy, culture, and media – and assist with the drafting of a new charter. The military government has also used emergency powers to enact other reform measures aimed at solving issues like land encroachment and human trafficking.
Throughout the past year, the Thai junta has had to fend off criticism from democratic nations, such as the United States of America, Australia, and the European Union, who condemned last May's coup d'etat and have downscaled diplomatic relations with the military regime.
Gen. Prayuth has suggested on several occasions that Western governments do not understand the situation in Thailand.
Paiboon Nititawan, a NRC member who supports the election delay, told reporters yesterday that the two-year extension has divided the 250-member reform council.
"As far as I have listened, the opinions are now divided along two sides," Paiboon said. "How many people are on each side is not clear."
Asked whether other government agencies, such as the NRC, should stay in power alongside Gen. Prayuth, Paiboon said it will be up to the junta chairman to decide.
Paiboon also suggested the issue be decided in the same referendum that the military government has pledged to hold on the new charter.
"Apart from asking the people whether they will accept the new constitution, there should be other questions as a bonus as well. Let's just ask the people once and for all. That is the right thing to do," Paiboon said.
However, Prapas Pintobtaeng, a political scientist at Chulalongkorn University, denounced the proposed referendum for Prayuth's power extension as "nonsensical."
"A referendum has to rest on certain principles," Prapas said at an academic seminar yesterday. "Not everything can be put to a referendum. We have already have a procedure on how to elect governments. Referendums must not be used to violate that basic principle of democracy."
He also called on the junta to lift its ban on political activities and free expression before the referendum on the new charter is held.