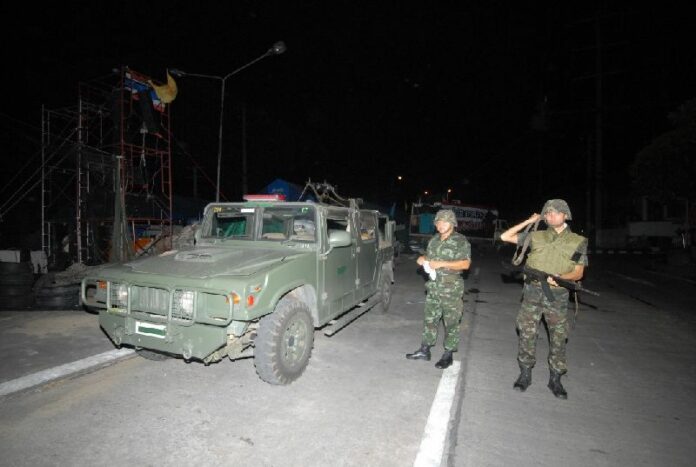 BANGKOK — Thailand's ruling military junta has dismissed a rumor circulating among supporters of the Redshirt movement about an impending counter-coup.
"Let me insist that it is not true," said Col. Winthai Suvaree, a junta spokesperson. "It's an attempt to release news that is not constructive. And I believe that it is an attempt by certain people who want to sow confusion in society. They have ill intentions toward the country."
He was referring to a rumor spread on social media among the Redshirts, who supported the government toppled by the junta last May, about a group of disgruntled senior military commanders poised to overthrow junta chairman Gen. Prayuth Chan-ocha.
The rumor asserted that the conspirators were backed by Gen. Prem Tinsulanonda, a former Prime Minister who is currently a top adviser to His Majesty the King, and who many Redshirts believe has a rocky relationship with Gen. Prayuth.
Although Col. Winthai did explicitly not address the claim, he said yesterday that "in the present time, all bureaucratic and military units have unity and a close relationship with one another."
"Therefore, the society should not give importance to news that is untrue, and be careful in their news consumption," continued Col. Winthai. "They have to exercise their judgment carefully. Don't simply believe untrue messages."
The spokesperson also clarified the document issued by an army unit instructing all fight forces not to move out of their bases, which has been spread on social media by many Redshirts as evidence of the junta's knowledge about an imminent coup attempt.
According to Col. Winthai, the document was recently published by Second Region Army to remind all armed forces in the region that they must seek permission from their commanding officers or the junta before any armament can be moved.
He said the document is a reminder of Announcement no. 1/2014, which was issued by the junta when it staged the coup on 22 May 2014, and forbids deployment or relocation of any combat-related equipment without the junta's permission.
"It is an order that is still effective and has not be repealed," Col. Winthai said.
For comments, or corrections to this article please contact: [email protected]
You can also find Khaosod English on Twitter and Facebook
http://twitter.com/KhaosodEnglish
http://www.facebook.com/KhaosodEnglish