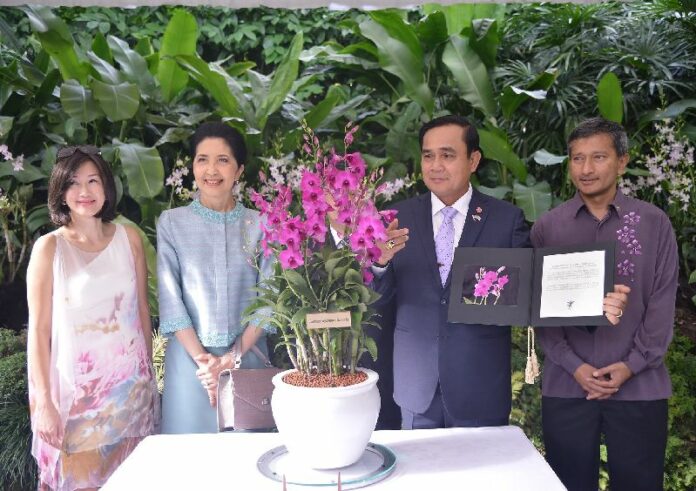 BANGKOK — Government officials in Singapore have honored Thai junta chairman and Prime Minister Prayuth Chan-ocha by naming an orchid species after him and his wife, Thai officials told reporters today.
Today Gen. Prayuth and his wife Naraporn Chan-ocha visited the Singapore Botanic Gardens, where one of the orchid species on exhibition has been renamed Dendrobium Prayuth Naraporn Chan-ocha, according to a statement released by the Government House.
Gen. Prayuth arrived in Singapore yesterday for a two-day state visit aimed at strengthening ties between the two nations. The general met with Singaporean Prime Minister Lee Hsien Loong for bilateral talks.
Maj.Gen. Weerachon Sukhonthapatipak, a spokesperson of the Thai military government, told reporters that Gen. Prayuth thanked the Singaporean leader for his confidence in the Thai economy and its potential. Gen. Prayuth also assured Lee that Thailand will organize a national election by next year, according to Maj.Gen. Weerachon.
"He then invited Singaporean investors to come join the development and invest in Thailand," Maj.Gen. Weerachon said.
Gen. Prayuth seized power from a democratically-elected government in Thailand last May. He has since ruled the country with an autocratic touch, banning political activities and protests, censoring the media, and appointing governing bodies stacked with military allies.
Former Prime Minister Yingluck Shinawatra, who headed the government that was toppled by Gen. Prayuth, also had an orchid species named after her – the Ascocenda Yingluck Shinawatra – when she visited the city-state in 2011.