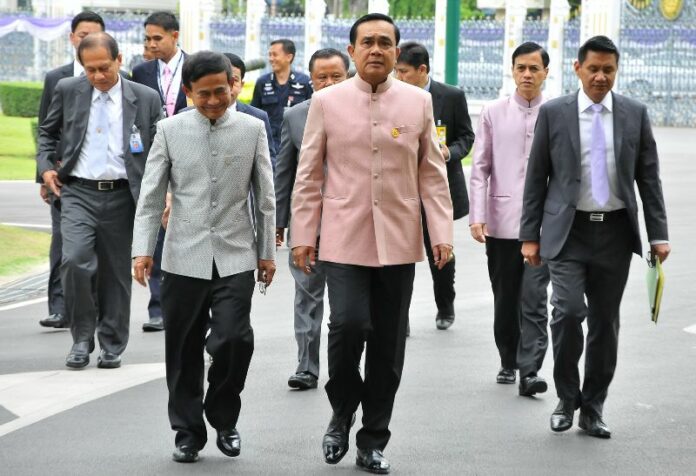 BANGKOK — Thai police say they are tracking down whoever is behind a rumor about an impending counter-coup against the military junta that seized power from an elected government one year ago.
Pol.Gen. Somyot Pumpanmuang, commander of the Royal Thai Police, said he has instructed the technological crime division team to investigate the incident.
The rumor, spread among the mostly anti-junta Redshirts, alleged that a group of senior military commanders is plotting to overthrow junta chairman Gen. Prayuth Chan-ocha. The claim asserted that the conspirators were backed by Gen. Prem Tinsulanonda, a former Prime Minister who is currently a top adviser to His Majesty the King, and who many Redshirts believe has a strained relationship with Gen. Prayuth.
The military government has dismissed the rumor as baseless.
"We are checking who posted this rumor," Pol.Gen. Somyot said. "If we determine that the rumor caused panic or affected national security, we will prosecute them, because it is not true. Furthermore, based on our intelligence agency's inspection of the information, and our discussion with officers from the three branches of the armed forces, we have not seen any information or possibility of a counter-coup."
Pol.Gen. Somyot added, "I believe we will find the persons who posted the rumor for prosecution soon."
He also reminded the public that police will take legal action against those responsible for spreading any other information on the internet that causes "panic or disorder" in the country, including people who have posted the locations of traffic police checkpoints online to alert other motorists.
Police will presumably seek to prosecute those behind the alleged rumor with Thailand's Computer Crime Act, a controversial law that bans a variety of offenses on the internet, including posting pornography, hacking a computer system, and spreading any information that "affects national security" or the "good morality of the people."
Critics of the law say its broad language is regularly used by authorities to suppress freedom of expression.
"This story should end already," deputy junta leader Gen. Prawit Wongsuwan said yesterday of the counter-coup rumor. "As for people who wrote about the counter-coup on social media, I have instructed four and five branches of my men to track them down. Once they have been caught, they will be brought [to justice]. So, I'd like to warn them, be careful, you will be in a big trouble if we catch you."