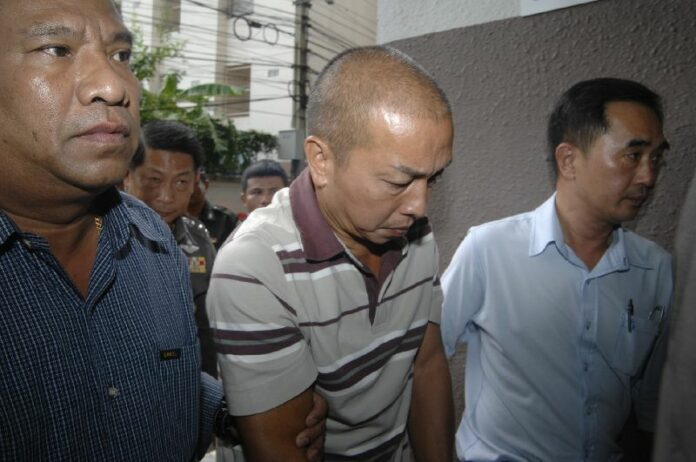 BANGKOK — After spending a week in custody at an army barrack, a close aide to the Thai Crown Prince's third ex-wife has been sent to prison to await trial on charges of insulting the monarchy.
Montri Sotangkul has been held for interrogation at an army barrack in Bangkok's Thammasop subdistrict since he was arrested on 11 June, police spokesperson Pol.Col. Ekkarak Limsangkart told the Criminal Court yesterday.
In a briefing sent to the court, Pol.Col. Ekkarak asked the judge to detain Montri at Bangkok Remand prison now that police have completed their preliminary interrogation and no longer need to hold him at the barrack.
The court approved police's request, and Montri – who has been seen in the same shirt since his arrested – was immediately escorted to prison. Montri did not submit any request for a bail release, and has not been represented by a lawyer.
Montri, who was royal chamberlain to former princess Srirasmi Suwadee, has been charged with lese majeste (defaming the monarchy), bribing state officials, and using his position as bureaucrat to seek personal gain. The maximum penalty for the latter charge is death.
According to police, Montri falsely cited his close ties to Crown Prince Vajiralongkorn to convince senior government officials to appoint him to the boards of several state enterprises. Montri also allegedly exploited his royal position to secure rights to buy and sell land in Bangkok.
Pol.Maj.Gen. Sriwarah Rangsiphramanakul, commander of Bangkok police force, told reporters yesterday that Montri did not implicate any other suspects during his interrogation. The officer added that the National Anti-Corruption Commission has been invited to join the prosecution.
The Anti-Money Laundering Office is also still investigating more than 10 million baht worth of assets that police confiscated from Montri, Pol.Maj.Gen.. Sriwarah said.
"As for the health of Mr. Montri, doctors have inspected him and found that he is normal, and that his mental condition has been improving," Pol.Maj.Gen. Sriwarah said.
Former Princess Srirasmi, who police said personally appointed Montri to her entourage, has not been seen in public since she resigned from the royal family in December 2015 amidst a string of lese majeste charges against members of her family, including her brothers, sister, parents, and uncle. All of them are now serving time in prison.
The palace scandal exploded in November 2014 when Sriasmi's uncle, former Central Investigative Bureau chief Pol.Lt.Gen. Pongpat Chayaphan, was charged with running a massive crime syndicate and using the Crown Prince's name to further his riches.
In response, Crown Prince Vajiralongkorn stripped Srirasmi's family of the royally-bestowed surname Akharaphongpreecha, forcing them to revert back to their "commoner" surname, Suwadee, on 30 November.
Crown Prince Vajiralongkorn and Srirasmi were married in 2001. They have one 10-year-old son.